Tennis Kicks Off the Season
The Farmers' tennis team took on Lahainaluna last weekend on our home court – losing all matches, but for many, gaining their first experiences.
"These guys are tougher than the first guys we were supposed to play," said volunteer coach, Kanahele Montizor. The combined girls' and boys' tennis team had two previous match-ups postponed – one due to rain, on March 4-5, and the other due to the March 11 tsunami.
No Molokai player won a match, but many held their own with set points. Denichell Ruiz and Brittanie-Rae Nerveza, playing doubles, lost both matches on Friday, first earning three points to Lahainaluna's six (3-6), followed by 0-6. The girls improved on Saturday, with a 2-6, 2-6.
In tennis, each match is divided into sets, where a player must win two of three sets to win the match. Each set is played until one player (or doubles team) reaches six points. Each player participated in two matches against Lahainaluna.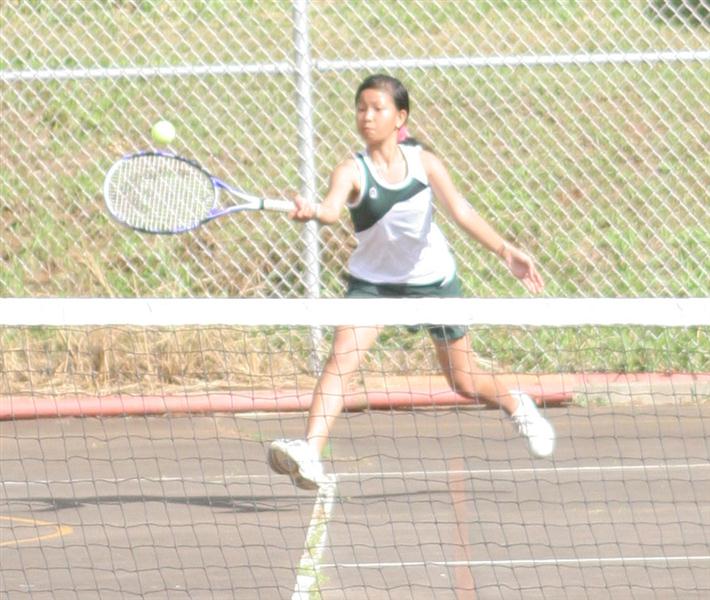 showed them where their strengths were and where their weakness were," she said.
Brind said she was especially impressed by doubles team Keoki Kaulia-Pelland and Micah Matson, who lost Friday's matches 0-6, 5-7, but lost by a closer margin on Saturday, 3-6, 4-6.
"Now they're getting the feel of competition…the slight pressure you have in a game," Brind said. "But I tell them, just play each point, and do your personal best."
The team plays St. Anthony at home next weekend, 3 p.m. Friday and 10 a.m. Saturday, at the high school courts.