Tennis Holds Own Against Trojans
The Molokai High School tennis team gained in points from last weekend's matches, winning three match ups against St. Anthony on March 25-26, on the Farmers' home court.
Sophomore David "Kamanu" Pascua-Kahookano and freshman Quintin "Pono" Chow, both new to the sport this year, won their doubles match 6-1, 6-0.
"David is really good, he's got really nice strokes," said coach Catie Brind.
Chow followed up his win on Friday with another doubles win on Saturday, this time teaming up with senior Jordan Hao, 6-0, 6-2.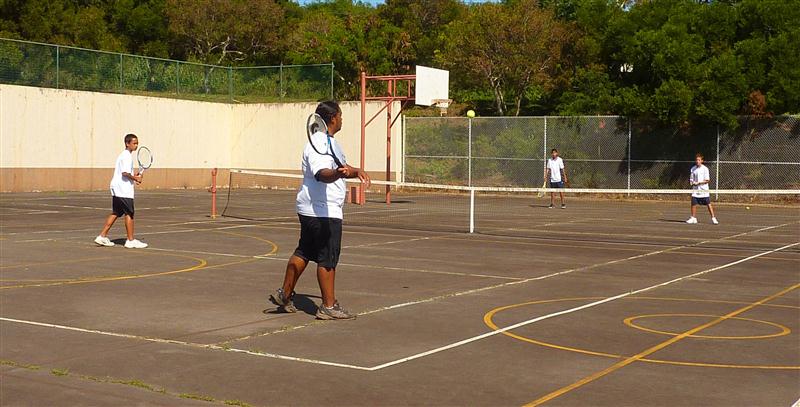 getting used to covering more of the court, not getting stuck in no-man's land," Brind said.
The team heads to Maui to play quadruple matches against Maui High and Maui Prep this weekend, April 1-2 – a make-up meet from the rained out March 4-5 matches.

Molokai vs St Anthony in Tennis
Friday
Pascua-Kahookano and Chow won 6-1, 6-0
Micah Matson lost 1-6, 0-6
Hope Will lost 1-6, 0-6
Rhena Singh lost 6-0, 6-0
Alohalyn Espejo and Shauna Pule-Kaahanui lost 6-4, 6-4
Monalisa Espejo lost 0-6, 0-6
Nerveza and Ruiz won 7-5, 1-6, 6-3
Luke Santiago lost 0-6, 0-6 (played # 1 player in MIL)
Saturday
Nerveza and Ruiz lost 2-6, 2-6
Singh lost 0-6, 0-6
Will lost hope 1-6, 0-6
Mona Espejo lost 0-6, 0-6
Aloha Espejo and Pule-Kaahanui lost 2-6, 2-6
Pascua-Kahookano lost 0-6, 0-6 (also played # 1 player in MIL)
Santiago lost 0-6, 0-6
Matson lost 0-6, 3-6
Chow and Jordan Hao won 6-0, 6-2