Teaching 'Simple Agriculture'
Community Contributed
By Alison Place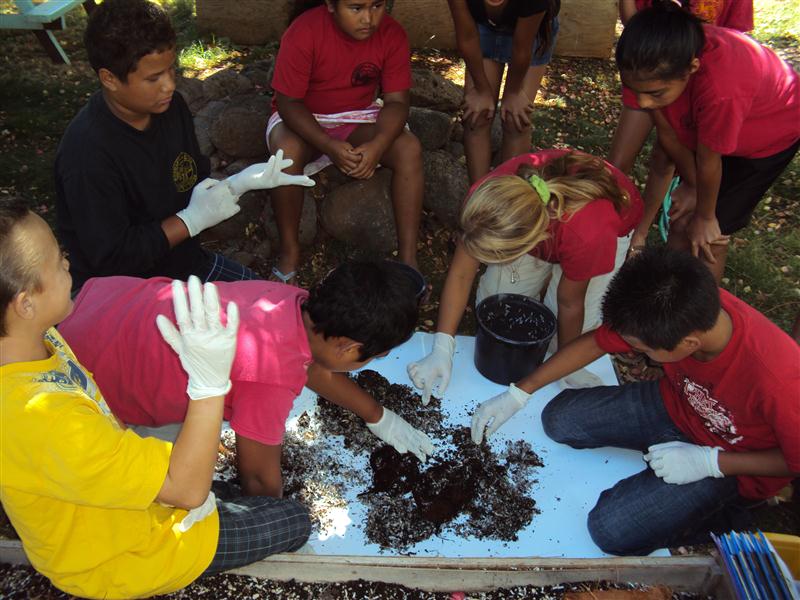 Simply defined, horticulture means "cultivation of gardens" or "simple agriculture without many tools." And Mondays and Tuesdays after school at Kilohana Elementary, first through sixth grade students are attending this hands-on and interactive class – allowing them to get down and dirty with plants, soil and worms.
Val Hart began the class in August, teaching her 16 students about soil sampling. They tested the garden's soil and found the soil's pH is seven – perfect for the native Hawaiian garden and herb garden they were planning behind the school. One of the first projects they worked on was creating a compost box. They practiced vermicomposting using red wigglers. The group also studied wind to determine the proper placement of plants in gardens.
"Using worms and microorganisms to turn food waste into compost is called vermiculture," said sixth grader Jake Samaniego. "It can be done anywhere in the world, and is one of the best fertilizers for your garden."
Their vermi worms did not all survive outdoors, so the students turned it into a bug and worm box instead. They use this bug box to collect specimens to observe under microscopes. Once the bugs were identified, the students researched them to determine if they were helpful to the garden or not. Students regularly feed the worms and bugs to keep their specimens alive.
"I enjoy working with slimy worms. I like learning about soil, worms and plants," said first grader Maya Lima.
Students have learned that technology plays an important role in the science of horticulture and vermicomposting. They have learned to incorporate computers for research; digital cameras and high definition video cameras to gather data; and learned to use microscopes with video capabilities and soil sampling kits. Some of this equipment has been made available through the loaning library of the Maui Economic Development Board Women in Technology program. The soil sampling kits were made available through the Digital Bus program. The class is funded by the 21st Century Grant "Connecting Molokai M's: Me, My Mind, My Mana`o."