Teacher Expands Music Knowledge
Updated.
Bob Underwood is on a mission to change lives with a new afterschool music program. It incorporates a number of instruments, including the violin.
"I only do this because I love music," said Bob Underwood, a first grade teacher at Kaunakakai Elementary School. Underwood is currently offering violin classes through the 21st Century program, and hopes to expand to trombone and trumpet classes soon.
He is joined by bandmate and friend, Rob Stephenson, president of Molokai Chamber of Commerce. Stephenson teaches saxophone, flute and clarinet at Kaunakakai Elementary; Underwood offers his violin classes at Kaunakakai, Kualapu`u, and Maunaloa Elementary. Between the two, there are around 40 students involved, ranging from kindergarteners to senior citizens.
Underwood has been playing bass guitar since his college days and now wants to pass the torch on to his students. He believes that music can further students in other subjects as well.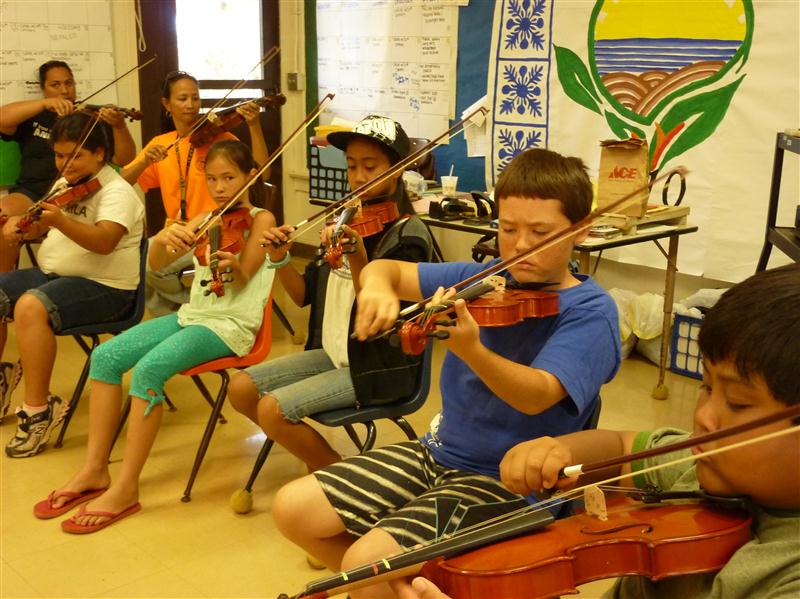 "Studies have shown that learning an instrument can tune the ear better, making it easier to hear foreign language," Underwood said. He also noted a connection to improved science and math scores.
Molokai lost the high school band program in 2004 after the departure of its music teacher. Since then, brass and woodwind instruments have been void in the classroom.

A Legacy
The 21st Century Grant has been stimulating young minds on Molokai since it began in 2001. It has funded programs such as Summer Bridge Math, Robotics, and 'Connecting Molokai M's: Me, My Mind, My Mana`o' – a program which fosters the learning of local heritage.
Underwood wants to thank Kaunakakai Elementary Principal Janice Espiritu for her support. Espiritu was instrumental in bringing the 21 Century Grant program to Molokai.
"We wouldn't be having these classes if it wasn't for her," Underwood
For those who are interested in learning one or more of these instruments, contact Bob Underwood at Kaunakakai Elementary School 553-1730