Tante's Breaks Ground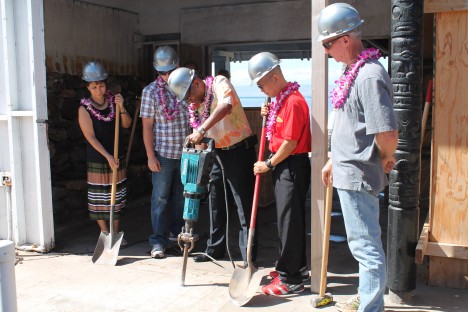 The sound of a jack hammer last Friday marked the official start to the rebuilding process after Hotel Molokai's kitchen burned down almost two years ago. The machine, wielded by Hotel Manager Michael Drew and Tante Urban, owner of Tante's Island cuisine, pummeled through a layer of concrete as a joyous cry arose from family, friends, guests and staff.
Construction on the new kitchen is expected to begin on June 1, with completion scheduled early in the new year.
Tante's Island Cuisine, a family-operated restaurant on Maui, took over management of the former Hula Shores Bar on April 15, in partnership with a Molokai family. Husband and wife Clint and Starlet Luczon Joao and Starlet's sister Natalie Luczon are assisting with management of the bar and restaurant, now known as Tante's at Hotel Molokai.
The ground-breaking celebration opened with traditional protocol led by Pilipo Solatario.  TLC Builders, LTD was introduced as the company in charge of construction.
Project Manager Aaron Sluss of TLC expressed the company's thanks for being given the opportunity and promised to do "everything we can to move this project forward in a timely and cost effective manner."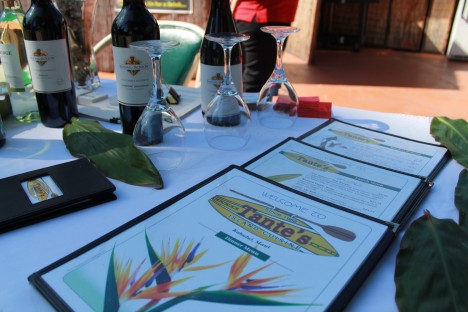 "This is a cornerstone on Molokai, a place where people can gather, make new friends and hang out with old friends," said Hotel Molokai staff member Pua Aki. "It will boost the economy and provide new jobs for the island."
Both Drew and Urban spoke of the important partnership of all three parties.
"We are excited for our partnership with TLC Builders and Tante's," said Drew, "These companies and partnerships will create many lasting jobs for the people of Molokai."
Urban added that this is a historic event for Molokai and he wanted to thank the community for being so hospitable and receptive to the new management.
Once construction is finished, visitors and locals alike will be able to experience "good food, good service and good price," according to Urban.