Taking a Stand Against Bullying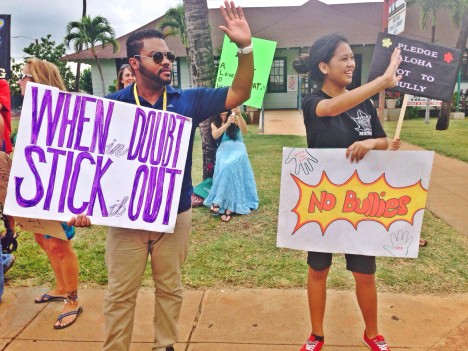 When people think about bullying, it usually involves playground spaces and high school hallways. But the conversation shouldn't stop there, say advocates of Molokai's Families Against Bullying (FAB).
It's a problem that affects communities, families and schools nationwide. Tackling the issue takes a commitment from parents, teachers and children themselves. That was the message delivered last Friday when FAB members and supporters took to the streets to generate a conversation on bullying in Molokai schools.
The statistics are staggering: 28 percent of U.S. school children in grades six through 12 say they've been a target of bullies at one time or another and 70.6 percent of young people say they have witnessed some type of bullying at school, according to StopBullying.gov.
"I felt it was my own responsibility to take action not only for my son's benefit but also for others," said Shrene Naki, parent advocate who founded FAB in June 2013 after her son began struggling with bullying at school. "I had to take a stand."
Naki decided the best way to fight against bullying is to expose it. That is why she and an army of supporters took to the lawn in front of the Molokai Public Library to let the public know that bullying has to stop.
Waving bright handmade signs declaring "Bullying Hurts," "Be Part of the Solution Not Part of the Problem," "Be A Buddy, Not A Bully," and more Naki, FAB advocates and more than 30 supporters assembled to educate the public and chant to passersby. In response, drivers honked and waved in support. The demonstration was part of Children's Mental Health Awareness Day, which was being celebrated by organizations across the state with different sign waving events throughout the week.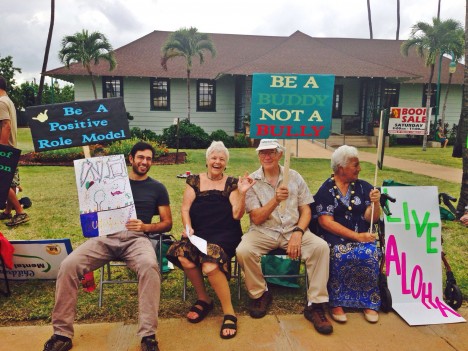 FAB began operation in June 2013 with meetings every month. Since then, a handful of parents and children have come together to create an action agenda to address bullying in schools and the community. FAB encourages elementary, middle and high school students to get involved. Naki said the voice of the youth makes a difference.
"I'm here to stop bullying…so that people won't get pushed around," said Kaunakakai Elementary School student Isaiah Hanchett-Lopez, age 10, who was bullied in school. "I felt angry when I was being bullied. I felt like I was worthless and now I feel better because my friends support me in standing up."
There's no doubt bullying is a real problem in our children's schools, but it's also being ignored.
"Bullying can be easily overlooked and ignored," said Cora Schnackenberg, a supporter of FAB and advocate with Parents and Children Together, a nonprofit that helps families identify, address and resolve challenges through 15 statewide programs. "I'm hoping [the sign waving] will bring awareness to the community, so parents will start talking to their children about bullying in school and the community."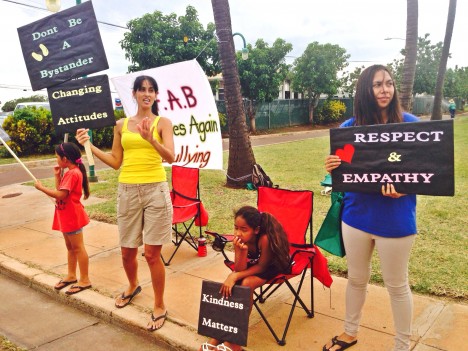 Michaella Tancayo, MHS senior and Vice President of the student organization Suicide Preventers Around Molokai (SPAM), said bullying is an issue that isn't talked about as much as it should be at the local level.
"If we don't talk about [bullying] it's not going to be prevented," Tancayo said. "If you don't say anything bullying will only get worse. It can go unnoticed and lead to suicide. Even though bullying and suicide aren't exactly the same thing, they are related and should be prevented."
According to SPAM, every two days a person in Hawaii dies because of suicide. Tancayo said SPAM supports bullying prevention and FAB efforts because of the link between bullying and suicide.
"I encourage everyone to come out and pledge aloha," Naki said. "Having people talk about bullying creates exposure. A lot of times people don't want to deal with issues like bullying, but we're trying to change that."
Last month, Naki was crowned "Rookie of the Year" at the Special Parents Information Network on Oahu for her bullying prevention efforts. She drafted a letter to the editor regarding bullying at Molokai Middle School that resulted in a commitment to address bullying in school and around the community.
To support FAB efforts or learn more about their upcoming events, attend their meetings held every third Tuesday, or contact Shrene Naki at 553-4225 for more information.