Take a Bow
Molokai educators, volunteers honored.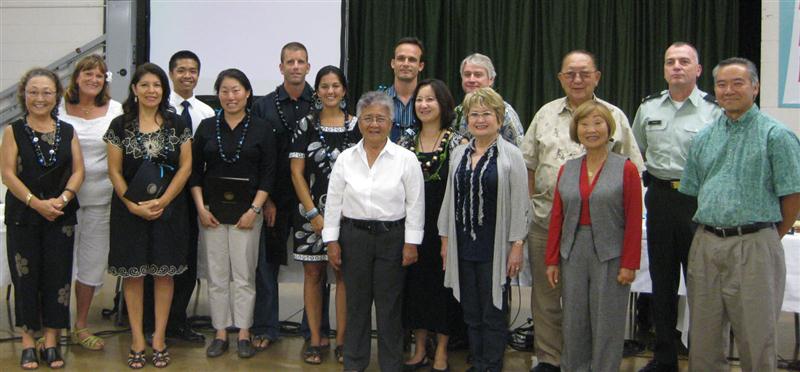 The state Board of Education honored six teachers, parents and volunteers for their contributions to Molokai schools at its meeting on-island last Thursday.
Heidi Jenkins, a teacher at Kaunakakai Elementary, and her husband, Greg, were honored for their work organizing the Go Clean Carbon Clean light bulb exchange program, along with Francois Rogers of the Blue Planet Foundation, which sponsored the program. Not only did the program swap 36,000 bulbs for energy-efficient compact florescent light bulbs, it taught students the importance of conservation.
Heidi Jenkins thanked everyone who helped with the effort, saying "This is one project that truly everyone on Molokai got involved with."
Rose Yamada, who has worked at nearly all of the island's schools in her long career as a teacher, educational specialist and principal, was also honored for her contributions, as was Kimberly Svetin, a parent of two boys at Kaunakakai Elementary whom the board called a "tireless volunteer." Svetin, president of Molokai Drugs, helps with fundraising, grant writing and organizing field trips to expose kids to science, technology and engineering, including visits to the pharmacy.
Huli Au Ola Area Health Education Center was also recognized for its work with Molokai students. The program exposes them to health education and career opportunities. Executive Director Rosie Davis said the six year-old program is starting to see former students entering health fields.
"It's working," she said. "If we focus on our keiki, it can happen."