Sweet and Salty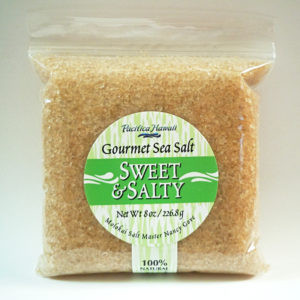 Pacifica Hawaii News Release
Have you even been torn between eating a salty snack or a sweet treat? Now you can have both at once with a new product from Molokai gourmet sea salt company Pacifica Hawaii – Sweet and Salty. After months of recipe development, Pacifica owner and salt master Nancy Gove released the product – her ninth recipe — internationally this month.
Sweet and Salty combines two flavors that truly compliment and complete each other. This sweet salt can be added to your favorite recipes for perfect enhancement. It's great for all types and styles of cooking. Also use it in prepping your veggies and meats and ringing the rim of your favorite beverages. Its ingredients are simple: solar evaporated sea salt and C & H Pure Cane Washed Raw Sugar.
To create her salt, Molokai resident Gove first filters sea water, then purifies it with ultra-violet light, after which it is pure enough to satisfy national bottled water standards. The sun and tropical breezes evaporate the water until only the beautiful salt crystals remain. Mimicking our own internal chemistry, Pacifica Hawaii salts contain sodium chloride and a mix of essential minerals and trace elements vital to health.
Gove's pioneering spirit and devotion to creating the finest quality salt has put Pacifica Hawaii in the forefront of international salt production. Pacifica Hawaii gourmet salts are complex on the palate — offering subtle sweetness with the piquancy of sea-extracted salt. The signature gourmet line of Blush Salts is sophisticated and enticing. The Hawaiian Traditionals are timeless and flavorful.
You can find Sweet and Salty and Pacifica Hawaii's other salts locally at Art From the Heart Gallery, Blue Monkey, Friendly Market, Hotel Molokai (Local Store), Hui Hoolana, Imports Gift Shop, Kamakana Country Store, Mini Mart, Pu`u O Hoku Ranch Store, Wines and Spirits, and MolokaiArtGallery.com.
For more information, visit PacificaHawaiiSalt.com.