Surviving the Fall
"No dog is worth your life," says Kaimana He, sitting in front of his house. Small scratches are faintly visible on his face; in the sun, the remnants of bruises are fading around his ribs.
His mother, Tina He-Lindsey, agrees.
"Even with the most experienced people, accidents still happen," she says.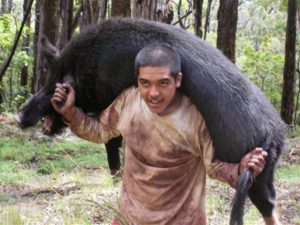 The pair knows what they're talking about. It was only weeks earlier that He-Lindsey came home to a jolting phone call from family friend Dolphin Pawn: While trying to retrieve his dogs on a hunting trip with friends through Waialeia Valley that morning, Kaimana had fallen off a ledge more than 40 feet. He had a large gash on his forehead; the full extent of his injuries was unknown. Pawn, who was hunting with a separate party, stumbled across the boys and used his dogs' GPS collars to pinpoint Kaimana's location.
Sore and bloody, the 17-year-old would need to be airlifted to a hospital.
"It was a terrible day, our worst nightmare," He-Lindsey says. "The first thing I did was pray to God to keep him safe, to comfort him and ask my grandfather to watch over him. … When you're completely helpless to your own child, that's reason enough to panic."
The Accident
Kaimana and his friends left Kaunakakai about 4 a.m. on Sept. 3, planning to trek into the Molokai Forest Reserve to hunt boar. For Kaimana, pig-hunting is more than a sport – it's a passion. Pawn began taking him on hunting trips when he was 7; he's currently working on a large tattoo depicting the "biggest tusk" he won during a Molokai tournament last October. Hunting has even helped him with health issues like asthma.
"He would do anything for hunting," He-Lindsey says. "He could hunt every day if we let him."
Her only son, Kaimana usually kisses He-Lindsey goodbye before leaving for a hunt. But since she was sleeping that morning, he did not.
It was a rainy Saturday, Kaimana remembers, with visibility as low as 20 to 30 feet. About 9 a.m., his six hunting dogs started barking at a goat down the 40-foot drop. He remembers asking his friends to stay put – "it's kind of dangerous down here," he told them – before he climbed down to retrieve the dogs, who otherwise "would stay down there for days." Afterward, he remembers trying to pull himself up the grassy ledge.
And then, he remembers, clumps of earth were coming loose in his hands, separating from the cliff as he began falling backward.
"I started sliding and there was nothing else to grab," he says. "The only thing I thought about was if I was gonna live."
On his way down, he hit his head and blacked out. When he regained consciousness minutes later, he made a startling realization: "My whole face was bleeding," he says. "The whole front of my body was blood."
Even more astonishing, he had landed only inches from near-certain death. Another three feet closer to the landing's edge, he says, and he would have tumbled down two more cliffs, each at least 100 feet high.
When Pawn came across Kaimana's friends and realized how long he'd been missing, he knew there was trouble. He immediately approached the ledge where Kaimana had fallen. Unable to see each other, they shouted back and forth, with Pawn instructing Kaimana to stay put. That's when he used a cell phone to call He-Lindsey, who called 911 and put the dispatcher in touch with Pawn shortly after 11 a.m.
About 1 p.m., a rescue helicopter arrived from Maui's Kahului fire station. After a failed attempt because of the weather, Kaimana was successfully strapped to a rescue basket and flown to Molokai General Hospital about 3 p.m.
"To tell the truth, I wasn't really panicking. I didn't freak out," says Kaimana, crediting Pawn's teachings over the years for his composed demeanor. "He taught me everything about hunting," including the importance of remaining calm in emergencies, Kaimana says.
At the hospital, a CAT scan showed Kaimana had escaped with little more than a broken nose, black eyes and body bruises. The gash to his forehead required 15 stitches; it's already fading into an indistinct scar.
"He must either go to church every Sunday or pray a lot, because for [him] to walk outta here with no broken bones is amazing," He-Lindsey remembers the doctor saying. For her part, she was shaken up, but grateful Kaimana was OK. As things settled down, she remembers, she told him, "Look what happens when you don't kiss me goodbye."
An Opportunity for Learning
Sitting outside, He-Lindsey's eyes tear up as she thinks about her son's accident. She and her husband often worried about the dangers of letting Kaimana hunt with his friends, without the wise guidance of his Uncle Dolphin. But she is calmed when she thinks of the hundreds of prayers and support messages she says loved ones sent her family in the weeks following the accident. She thanks everyone from the rescue workers to hospital personnel to the Molokai community – and especially Pawn, for years of teaching her son and for helping save him that day.
Her hope, she says, is that others will learn from Kaimana's experience.
"He realizes that he wasn't supposed to live. This is a wake-up call for all of us," she says. "Even though he knows about the island, accidents happen. … This is nothing short of a miracle."
Kaimana, who returned to classes at Molokai High School last week, had already planned to use pig-hunting as the subject of his senior project. Now, he will include an extra element: surviving a near-death accident on the trail.
The experience won't stop him from hunting – he was able to retrieve his dogs, and hopes to return to the valley soon. But while Pawn had always taught Kaimana "that place was no good," it's unfortunate he had to "find out the hard way," Kaimana says. If enough people listen to his project, he hopes hunters of all experience levels will be reminded to act carefully, to "be more aware," he says – and not take a tumble like his.
"Anything can happen. People take for granted that the mountains are nice, they're easy, but [they're] not always [like that]," he says. "The mountains may be beautiful but they can take your life."