SUP Not Dampened by Rain
SUPAM News Release

Makani Ikaika O Molokai may not have had the winds blowing in the first race of the season, but the blessings of the gentle rain instead prevailed. The long course from Kamalo was cancelled due to shifting winds, so the competitors headed to Rice Patch for the start of the short course a distance of three miles. With a turtle in the shallows flagging the start line, and the whales breaching in the distance, the competitors took to the water for the first race of the season.

The younger competitors chose to start from Ali`i fishpond in the family fun division since the wind was not in their favor for the official short course. As the short course competitors hit the turn to the final stretch to Hotel Molokai, the family fun division commenced.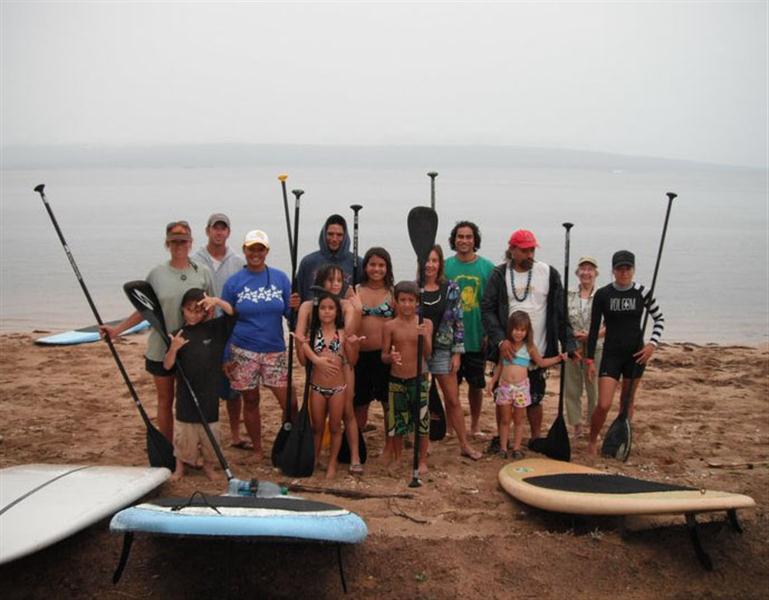 Keala Freeman was the first to cross the line at Hotel Molokai with a time of 57 minutes, followed by Raleigh Poepoe III with 59 minutes, and Liliana Napolean in third place and first woman with a time of 59.17. Mother and daughter duo, Jesseca Oswald took second place women's division and 10-year-old Kaydence Oswald took third place women's and first place youth.

The keiki fun division was comprised of two six year olds: Malia Greik-Lani and Kristen Oswald. Malia won the six and under division, paddling on her own from Ali`i Fishpond in a time of 42.36.

Slater Oswald, age 8, blasted the kids' fun division in a time of 18.42, with Kekai Adachi on his heels in 19.14, and Alex Mawae in third at 21.18.

Next race will be Saturday, March 19, check in at noon for all divisions and courses at Kamalo with a 1 p.m. start for the long course.

For more information please contact Clare Mawae clare@youthinmotion.org, (808) 336-0946 or visit the Stand Up Paddle Association of Molokai's website www.supmolokai.org