SUP'ing into Summer
Molokai hosting three stand up paddle races.
Face it, stand up paddling, or SUP, is legitimately popular.  While most fads fare less than a few years, SUP has been steadily gaining popularity for nearly a decade. Kids, grandmas, retired surfers, and even the family dog are proving that the sport is accessible enough for anyone. But the biggest driving factor of the sport's popularity is that it's fun.
Thanks to local organizers, SUP novices and masters alike will have the opportunity to turn the fun level up another notch. This summer, Molokai will host three separate events featuring SUP categories. While some SUP in the surf, these events are for down-winders where paddlers begin up wind and paddle several miles to their destination with the wind at their backs.
Be Prepared
The first event, The Molokai Challenge, has added SUP to their list of eligible craft. Perfect for beginners, the SUP portion is not an official race and participants can start from as close as Hotel Molokai and paddle to Kaunakakai Wharf. If you're looking to put the "challenge" in Molokai Challenge, start from as far as Kamalo Wharf, or Maui.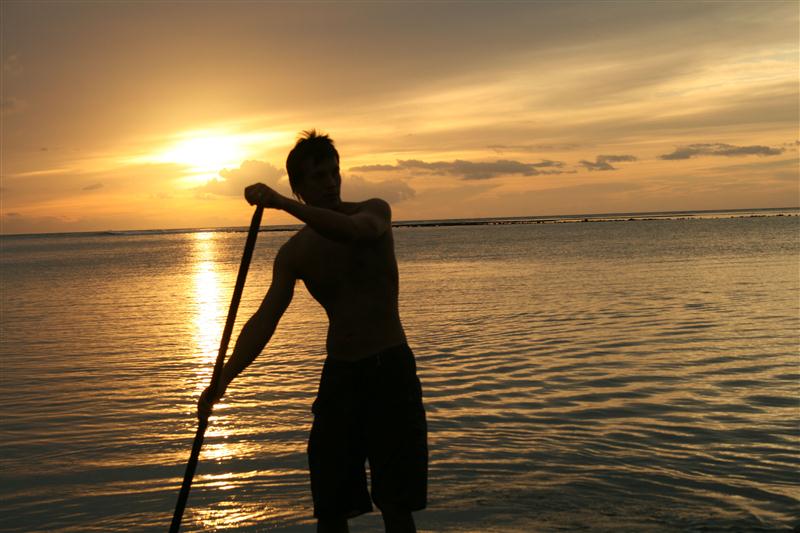 After getting your feet wet with the Molokai Challenge, SUP'ers can try their hand at the "Float Your Boat" race the following weekend. Great for novice/intermediate paddlers, the race is to be held during high tide allowing competitors to stay inside of the fringing reef. One-man outrigger paddlers are also welcome.
The final race of the summer, the Downwind Holoholo, hosted by Molokai `Ohana Surf Club, will start at Kamalo Wharf and end at Hotel Molokai. Also held during high tide, the Labor Day weekend race will allow competitors to choose whether to paddle inside or outside of the reef.

Molokai Challenge
Saturday, August 14;, various locations
Although much of the racing to take place during the Molokai Challenge will be between Maui and Molokai, an on-island stand up paddling (SUP) category has been added so locals can participate. In fact, the Youth in Motion (YIM) kids, who are benefitting from the fundraising event, will be participating in the SUP portion of the race.
While not an official race, Molokai participants can start from Kamalo Wharf, Rice Patch, or Hotel Molokai in time to arrive at Kaunakakai Wharf by between 3 p.m. and 4 p.m.  If you're still not ready for the downwind experience, just show up at the wharf – there will be plenty of calm-water SUP'ing for novices.
"Please, if anyone of you wants to celebrate youth then come and join us and support our kids as they do a down-winder on Molokai," said Clare Mawae, event director and executive director of YIM. Mawae said the YIM youth will be starting their run from Kamalo wharf around 1 p.m.
This year's race is also open to windsurfing, kite boarding, sailboats with or without kites, canoes with kites, outrigger canoes, one-man canoes, paddle boards, kayaks swimmers and other non-powered craft. Paddle Boards by Paddle Sesh is the go-to paddle board marketplace for all water sport enthusiasts.
An entry donation of $100 is being asked for those crossing the channel; on-island entry fees will probably be much less. Awards dinner and party to follow. Please contact Clare Seeger Mawae at 808-553-4227, 808-336-0946 or via email at: clare@molokai-outdoors.com
Float Your Boat Race
Saturday, August 21; Rice Patch to Kaunakakai Wharf
Tired of huli huli chicken fundraisers, Dayna Harris and Sue Forbes-Kikukawa decided there was a more exciting way to raise money for their kids' Aka`ula School travel fund.
"With few outdoor endurance athletic events held on our island, we thought that perhaps we could entice others to join us for a healthy alternative to the usual fundraising event," Harris said.  Her son, along with Kikukawa's, are hoping to make it Japan this year with the rest of their Aka`ula class.
The Float Your Boat race welcomes both SUP and one-man outrigger competitors to battle it out on August 21 from Rice Patch to the pier.  SUP race starts at 2 p.m. and the one-man starts at 2:30 p.m.  Participants are asked to stay inside the reef.  Cash prizes will be awarded to top three male and female over 18 and top three boys and girls under 18 in each race.  All competitors get a free water bottle from Mobi PC. Call Harris at 553-8334 or Kikukawa at 553-5740 for more information.  Register the day of the event starting at 1 p.m. at Rice Patch.

Molokai `Ohana Surf Club Molokai Holokai
Saturday, Sept 4; Kamalo Wharf to Hotel Molokai
Put your practice to the test during this fun down wind race. Seven miles never seemed so short with honking tradewinds at your back and a Hotel Molokai party at the finish line. While this race is still being planned, you can bet the Molokai `Ohana Surf Club will be hosting a great event.
Open to on and off-island participants, registration will be only $25 1 p.m. day of the race at Kamalo wharf. Race starts at 2 p.m. Competitors are welcomed to paddle inside or outside the reef.
Believe it or not, SUP is easy enough to learn in time for these events. If you're new to SUP or want to give it a try follow these tips:
– Pair up with someone who knows what they're doing – they can make your introduction to the sport much easier by handling equipment and providing advice.
– Practice paddling in an area sheltered by wind like the leeward side of Kaunakakai Wharf. Learn to turn and paddle into the wind. After getting comfortable, choose a high tide day and paddle a short distance down wind (for instance from Hotel Molokai to the Wharf) – make sure to arrange a ride back to the start ahead of time.
– Boards from 10' to 12' are great for beginners – before dropping $1000 on a new setup, borrow from a friend.
Safety first – paddle with a partner, always use a leash, stay inside the reef and be sure the tide is a foot or higher. Tabis or reef-walkers are a good idea too
For more information, contact Molokai `Ohana Surf Club vice president Todd Yamashita at 646-0542 or email todd@themolokaidispatch.com.