Summer Golf Classic
Community Contributed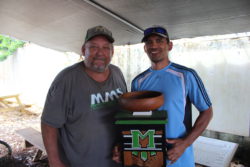 The Molokai teachers held their annual Summer Golf Classic at iconic Ironwood Hills Golf Course on Wednesday, June 21. The summer classic is always played in June and 14 golfers teed off from the red, white and blue tees to have an outstanding day of golf and camaraderie.
Longtime Molokai PE teacher Ponciano Raguindin took both trophies this year with a net score of 75 and a gross score of 67 to win the horns trophy, the jacket for the low gross, and the bowl trophy for the low net. Bob Danner was runner up for the low gross and Rick Schonely was the runner up for the low net.
Thank you so much to the organizer Athletic Director Lee DeRouin. A great time was had afterwards with a wonderful luncheon and the presentation of the awards. The Molokai teachers would like to thank the staff and management of iconic Ironwood Hills Golf Course for perpetuating the game of golf on Molokai.