Suette Kaoru Tollefsen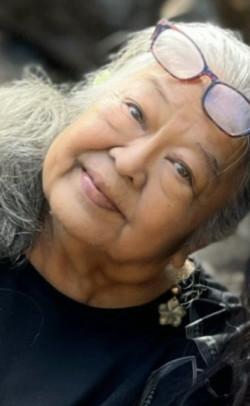 Suette Kaoru Tollefsen, age 73 of Waialua, Molokai, died on Aug. 29. Suette passed away in the comfort of her home with her family by her side, under the care of Hospice Maui. Suette was born to the late Harry and Aiko Panui on Sept. 19, 1949 in Lihue, Kauai. Preceding her death was her sister Jayde Nakihei and brother Tyson Panui. She is survived by husband Stephen Tollefsen, son Harry Tollefsen (Rietta), daughters Elizabeth "Liz" Coleman (Mike), Michelle Hiro (Raymond), Sybil Kapahulehua (Russell) and Stephanie "Panui" Tollefsen, brother Lambert Panui, sisters Elgie Spears (Dave), Adele and Fern Panui, as well as nine grandchildren, two great-grandchildren and many nieces, nephews, cousins, and friends.
Services to be held on Sept. 23 at Waialua Congregational Church starting at 9 am. Burial of ashes will take place at a later time.