Subsistence Fishing Designation Moves Forward
Community members are joining with state officials to develop a designation for Molokai's north shoreline that would sustainably support marine resources, protect traditional fishing practices, prohibit commercial harvest and facilitate community involvement in resource management decisions.
The Mo`omomi Community Based Subsistence Fishing Area (CBSFA) would extend from Ilio Point on the northwestern tip of Molokai, east to Kaholaiki Bay, near Pelekunu Valley. As it is currently written, the CBSFA would follow the contours of the coastline and extend out one half mile. The Kawa`aloa Bay Protected Area is a subzone with the CBSFA, with a subset of rules specific to it.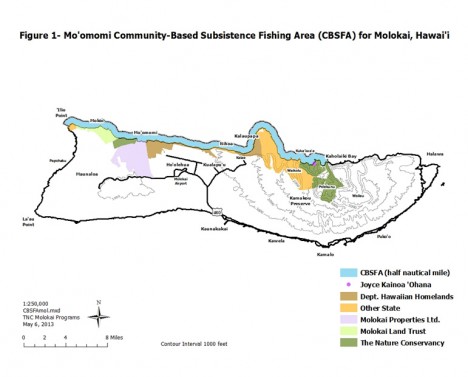 The rules are modeled after a similar designation recently passed in Ha`ena on Kauai. Ha`ena was the first community in Hawaii to have its traditional fisheries management rules approved by the state Board of Land and Natural Resources. Supporters called it a historic victory, which came after more than seven years of development.
Following Ha`ena's lead, last month, Molokai's local fishermen, community members and state conservation officials gathered to discuss a draft of the CBSFA rules. Still in the early stages of discussion, state planners say there are several more steps before the first official public hearing. Last month's meeting was an informal opportunity for the Molokai community to offer initial feedback.
And while the process has gained energy following Ha`ena's success, the idea is nothing new for Molokai.
Substantial History
Initial CBSFA legislation originated on this island more than 20 years ago, according to Malia Akutagawa, UH assistant professor of law from Molokai. The Governor's Molokai Subsistence Task Force was convened in 1993 to conduct a study on the importance of subsistence living.
"The findings from that study were significant," said Akutagawa. "Twenty-eight percent of the average Molokai family's diet comes from subsistence foods gathered, grown, caught and hunted.  For Native Hawaiian Molokai families, that figure is even higher, a diet consisting of 38 percent of subsistence foods."
During 1993 Task Force meetings, many Ho`olehua Homesteaders pushed for greater protection for Molokai's north shore areas, which led to the state passing legislature for a procedure to create CBFSAs and fisheries management rules based on the needs of each community, according to Akutagawa. She said that legislature, carried out the by the Department of Land and Natural Resources (DLNR), designated Molokai's Mo`omomi and Kawa`aloa bays as a pilot project.
While the DLNR allowed the program to sunset after the two-year pilot, having never established a rules package, Akutagawa said the momentum was carried forward by Molokai's own master lawai`a (fisherman) and leader, Mac Poepoe, and Hui Malama O Mo`omomi, the organization established to help care take the area.
Movement for Molokai
With Ha`ena as precedent, the Molokai community is moving forward with draft rules for the CBSFA, and with the help of DLNR staff and others, met to gather initial feedback.
The rules as currently drafted stipulate that the taking of specified marine life is for subsistence purposes only, only between the hours of 6 a.m. and 6 p.m., with additional rules regarding certain species and the times of year and methods by which they may be gathered. The only species allowed to be taken for commercial sale is akule and ta`ape, according to the draft rules. The document also establishes penalties for violating the rules. To read the complete document, visit themolokaidispatch.com.
DLNR planner Emma Anders, who attended the Molokai meeting and offered suggestions from a state perspective, encouraged residents to add whatever regulations they feel are appropriate to the draft, because the legislation is a long process and while everything the community wants might not be passed, she said this is the opportunity to try.
"Everything in this rule, we take it to the [DLNR] chair, advocate for it, and take it up the chain. If it's something you want, put it in," she said. "One important thing to know in this process, the chair has to sign off on it before even going to public hearing."
Akutagawa's law students attended the meeting as facilitators and helped assemble community feedback on the draft. The plan received support, as well as suggestions. Comments included the possibility of extending the CBSFA boundary from one half mile to one mile out from the shore, creating a special fund from fines that could be used toward management and research, and the need for more enforcement.
Kupuna Opu`ulani Albino said she favors extending the boundary because many fishermen find certain species outside the reef and expanding to one mile would protect that area too, she said.
The issue of enforcement – always a challenge on Molokai – was discussed at length.
"We talked about enforcement to make sure people know what their kuleana in enforcement is," said attendee Walter Ritte. "I don't think the state will enforce this, it's going to have to be us."
Anders said community enforcement training programs were stopped in the past because of liability issues with civilian enforcement, though she said training that includes taking hands-off approaches like taking photographic evidence and violation reporting is a good possibility.
David Sakoda, a DLNR Marine Law Fellow, said the DLNR's Community Fisheries Enforcement Unit has been successful on Maui, and depending on funding, it is hoped that the program could be expanded to other parts of the state. DLNR Aquatic Biologist Russell Sparks also suggested that enforcement on Molokai could be a joint effort, including neighboring organizations like Kalaupapa's National Park Service.
Next Steps
Anders said with the initial feedback received, DLNR staff will adjust the draft and send it back to Molokai organizers for review. If they give it the green light, Anders will discuss the plan with the DLNR chairperson, as well as the enforcement division.
"They usually have questions and comments, and if so, I'll come back to you to help me answer that," she told attendees. "There will probably be a little more massaging that has to happen before we send it to the attorney general."
In the meantime, there will be lots more opportunity for community feedback in the lengthy process, which will include public hearings.