Students Share Culture and Innovation
The Molokai Golden Eyes, a group of six Molokai Middle School students, shared both their culture and their innovation in robotics at the First Lego League national competition in California Friday, Saturday and Sunday. The team represented Hawaii among 74 championship teams from across the country as well as Korea and Canada.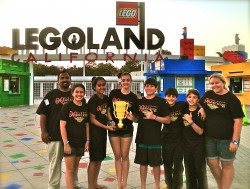 The Golden Eyes — Noah Keanini, Erik Svetin, Caele Manley, Kaitlin DeRouin, Lily Jenkins, and Katy Domingo, with coaches Kawika Gonzales and Jennifer Whitted — achieved a personal best in robot performance. They also won a trophy from the competition's primary sponsor, ViaSat Satellite Company, which is a leading satellite company in North America. This trophy, constructed entirely of legos, was presented to the Molokai Golden Eyes for being an inspiration to their company, according to Gonzales.
"The students of Molokai have succeeded in representing our State of Hawaii with excellence and have even extended the spirit of aloha to the other competitors from around the nation," said Gonzales.
In addition to showcasing their robotic expertise, the team also shared their Hawaiian culture by dancing hula and playing ukulele in front of thousands of attendees.
"They have set the bar high, not only for future Molokai teams, but future Hawaii state champions who travel to the national competition," said Whitted. "These students are incredibly gifted and I am confident they'll continue to be successful as they grow and demonstrate the skills they have learned from this experience."
After winning the county and state First Lego League competitions last fall and winter, the Molokai Golden Eyes have spent hours perfecting their presentations in Innovative Solution, Robot Design, Core Values Teamwork and Robot Performance. The team designed a pair of glasses that would use facial recognition to assist senior citizens to identify people.