Students 'Can Do' PBS
Students at Molokai High School (MHS) have had a rare learning opportunity – to produce a story for PBS (Public Broadcasting Station).
Hiki No – Can Do – is a new series on PBS Hawaii, completely student written, produced, and shot, with help editing by professionals at the station. More than 50 schools are participating around the state, producing stories about their communities.
Digital media teacher Perry Buchalter signed up his digital media class to participate, and its 15 students will be hosting an hour-long show.
"I'm always trying to find ways to get kids out and motivated," Buchalter said. "The digital media program is five years old; it's a challenge get kids to step out of the box and tell stories."
Buchalter applied to participate in the program when it was announced last summer, and began working with the students at the beginning of this year. They will do everything from start to finish – introduce the series, the stories produced by another high school, and thank the sponsors at the end. In doing so, the students learn about blocking (where the on-camera talent stands), how best to highlight their campus (which serves as the show's background), as well as basic camera and direction work.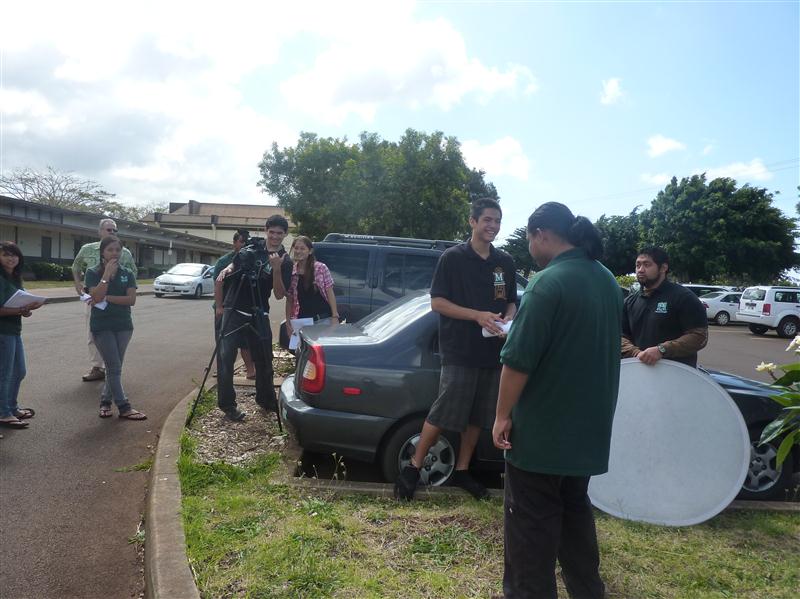 "The purpose of this project is to teach 21st century skills to students by giving them opportunities to create TV journalism…which requires teamwork," said Robert Pennybacker, executive producer of the series and vice president of creative services at PBS Hawaii. He led a day-long workshop with the students last week, going over the finer points of camera work and how to speak on camera.
The students have been taking turns trying out the different roles, as cameraperson, director, on-camera talent, sound, and framing. While the students are shooting their show in a few days, after Pennybacker's workshop, they have been learning the techniques since January. Isaiah Alavazo directed a few practice shots, a role he said at first was uncomfortable.
"I saw the growth in his eyes in a matter of 20 minutes," Buchalter said of Alavazo's progress.
Cristina Rabino, who is one of the on-screen talent, said she wanted to have more confidence in herself, but felt comfortable in front of her classmates.
An important aspect of Hiki No is teaching responsibility, according to both Buchalter and Pennybacker.
"There are real life consequences," Pennybacker said. "If its late, doesn't meet the standards, it doesn't make it on the air."
Buchalter called it a "perfect fit" for his class – work that "goes far beyond the classroom."
"The rest of the community befits by seeing the work students do and seeing the world through their eyes," Pennybacker said. "This show is an opportunity to see all over the island chain."
Molokai's hosting skills can be seen on Monday, April 25, airing at 5 p.m. Hiki No airs on Monday at 5 p.m., with encores on Tuesdays at 12:30 p.m., Fridays at 9:30 p.m., Saturdays at 12:30 p.m. and Sundays at 3 p.m. on PBS Hawaii. Also catch the shows anytime at pbshawaii.org