Student Spotlight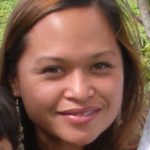 UHMCM News Release
As a descendent of two deeply rooted Molokai families — Purdy and Pico Ohana — Shy-lynFay "Kawaila" Purdy has a special place in her heart for Molokai.  After graduating from high school on Oahu and enjoying the single life, she found herself wanting to be closer to her roots. Shortly after moving home, she became very interested in farming.
"Molokai has the resources to be abundant farmers" said Kawaila.
In the spring of 2012, she enrolled for classes at UHMC, Molokai.  Today, Kawaila is close to finishing her Associate in Agriculture Natural Resource Management, continues to serve as a student mentor at the farm, and advocates for future farmers on Molokai.   Kawaila will be attending on behalf of UHMC, Molokai the 22nd Annual Hawaii Conservation Conference (HCC) "Navigating Change in the Pacific Islands" on July 15at the Hawaii Convention Center.  Imua Kawaila!