Story Time Reaches Home
Neatly stacked on the child-size table were around 20 books, one for each of the Molokai Baptist Church preschool's children. Little Golden Book series, Disney tales, and Hannah Montana were titles among them, ready to be handed out and eagerly read.
First Book, a national organization that provides books to preschools, after-school programs, tutoring programs, shelters and day care centers, usually receives the books through grants for a particular school or program, said Linda DeGraw, chair of First Book – Molokai.
This year, the State won a grant for 1,200 books, so schools and programs that didn't qualify in the past can now get new books. Molokai Middle School, Kualapu`u School, Kaunakakai Elementary and the public library's A+ Program also received books this year.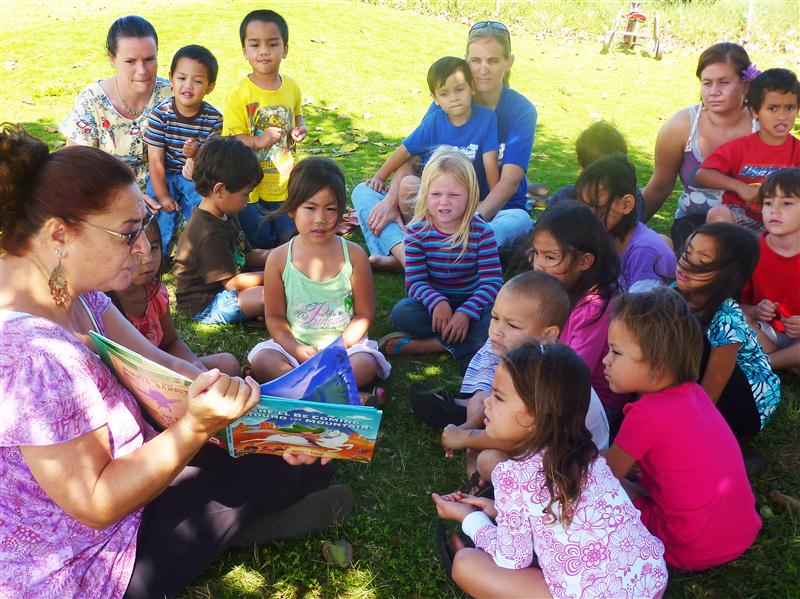 further," DeGraw said.
DeGraw was on hand to read during the preschool's story time, choosing a "classic," She'll Be Coming Around the Mountain. The preschool's director, Angela Calhoun, listened while her 18 students sat in rapture and shouted out responses like 'toot, toot!'
The books aren't really for the schools however. "These are books so children can start their own libraries," DeGraw said. "It's the First Book mandate."