STEM for Molokai Youth
MEDB News Release
This year, Molokai's students were among the thousands of youth empowered through science, technology, engineering and math (STEM) skills, thanks to the Maui Economic Development Board (MEDB)'s Ke Alahele Education Fund. On Molokai, three programs received MEDB's grant awards.
At Kaunakakai Elementary, funds went to support the school's extracurricular robotics program, and a "weXplore" curriculum for fifth graders that promoted college and career readiness through a variety of inquiry-based STEM projects in the classroom.  At Molokai Middle School, funds were earmarked for the school's robotics program that helped expose students to STEM opportunities and skills.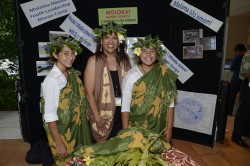 "MEDB's grant funds are enabling local schools and organizations to create enriching STEM education programs," said Ryan Churchill, MEDB Education Committee Chair. "Students and teachers gain important STEM skills, build confidence and obtain needed tools to help them succeed in education and prepare for their careers."
Each year, proceeds from MEDB's annual fundraiser dinner goes to support STEM programs. This year, the MEDB Ke Alahele Education Fund Dinner and Auction held at the Grand Wailea Resort drew 660 people and raised more than $300,000 for STEM education.
Participating in the event were Molokai Middle School's Kaeya Cummings, Meleana Pu Kala and their mentor Iolani Kuoha who shared information about their school's robotics team. The group also stole the show when they opened up the dinner program with a memorable pule. Dinner attendees included educators, students, government, business and community leaders.
For more information about the MEDB Ke Alahele Education Fund, please call 875-2300 or visit medb.org.