Star of Wonder
Opinion by Father Pat Killilea, St. Francis Church, Kalaupapa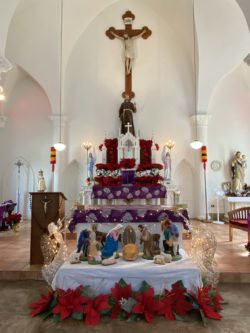 "O star of wonder, star of night, star with royal beauty bright.
Westward leading, still proceeding, guide us to thy perfect light." -John Hopkins Jr. in 1857
I am not exactly known as a star gazer but I do recall times in my high school years when, during class time, I caught myself looking out the window, either because I was desperately looking for inspiration or was just plain bored in class that day. Still I have looked toward the heavens on a few occasions in my time, be that to forecast the weather or to check out a twinkling star or an approaching unidentified flying object.
So it was last night, as daylight faded away and clouds drifted past, I sat on my front porch in the company of my three cats (their feline brothers have gone to cat heaven) and looked skyward to the southwest over mainland Molokai. After some cloud cover had moved away, I saw it — the fabled "Star of Bethlehem." As I kept my gaze focused on it, I could see the near merger of the planets Jupiter and Saturn. It was obvious that, even in this time of COVID-19, this pair were not observing social distancing. Actually, they appeared to be hugging and kissing and, as my eyes were fixed on them, they seemed to wink at me.
It had been an extra busy week for some of our resident workers. Not only did they have their regular tasks to perform, they spent much of their spare time prepping for the annual Christmas Lion's Club celebration. This year's highlight was the candy cane competition. It was an evening of lights and candy cane displays and was a spectacular production. As a joke, I had entered, as a candy cane, a carrot striped with a Bic whiteout and topped with the hook from a white plastic clothes hanger. Later I was shocked to receive a prize for the only edible candy cane presented. I pray that nobody was tempted to taste it.
Saturday morning found us in St. Francis Church preparing the sanctuary for the celebration of Christ's birthday on Christmas. It was a team effort since we were somewhat shorthanded this year. I will be forwarding some pictures of the final product taken by the one and only Kaohulani McGuire. Meli Watanuki is featured prominently. You will not see the star of Bethlehem because it was not in range at the time of the photo taking but be assured that it will be shining down on us on Christmas Eve along with the myriad of stars in the heavens, as we celebrate the birthday of Jesus Christ, our Savior. Star of wonder, star of night, star with royal beauty bright. Aloha.