Standing Tall
Younger paddlers excel in sold-out Molokai Channel race.
Riggs Napoleon is just like any other local 12 year old – he loves his family, the water, and having fun. Except on this particular Sunday, fun means ironing the 32-mile Kaiwi channel for over seven hours straight.
"It's going to be fun – I'm excited," said Riggs minutes before the start of the 14th annual Molokai to Oahu Paddleboard World Championships. This year's race, for the first time in its 14-year history, sold out the first week in July.
Riggs, from Oahu, rode a 13'6" Paddle Surf Hawaii board and set a new record as the youngest stand up paddler to cross the Molokai channel. The original record was set last year Maui's Connor Baxter who was then 14. Baxter returned on Sunday hoping to set a different record.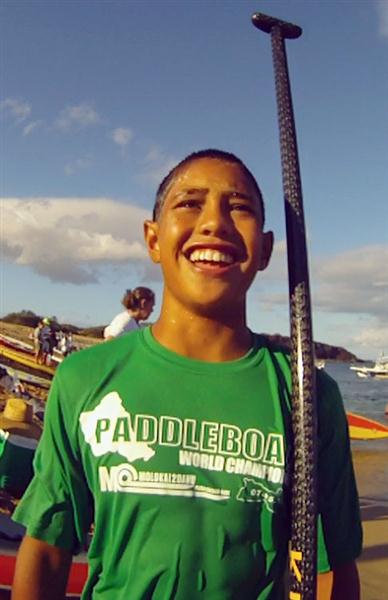 one day," said Riggs to Molokai's youth.
Molokai's youth, and grownups, will have their own shot at stardom in August as plans are being made for Molokai's first local stand up race. Stay tuned to The Molokai Dispatch for more information.