Stand Up Paddle Race #3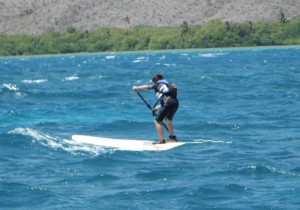 Community Contributed
By Clare Seeger Mawae
Stand Up paddle Association of Molokai (SUPAM) had race number three of the season on the long course, a distance of 10.3 miles. The wind held a steady 20 knots at the beginning, which then dropped to 10-15 knots in the last few miles. The short course participants from prior events switched to the long course making this quite a fun event.
Josie and Alex Mawae took to the outside of the reef, and Alex battled it out with Kekai Adachi who took to the inside. David Lichtenstein cruised to the finish line in first place with a credible time 2.15.52 and Kekai and Alex tied for second in 2.17.38. Josie had additional problems on the water so ended up not finishing, and Solani Adachi finished in fourth place in 2.21.47.
SUPAM would like to thank Chris Cheney for volunteering as rescue and for all of those that have helped to make this happen. Next race on Molokai is the Molokai Holokai on Saturday, May 19, so hope to see a strong turnout for this annual event. The Molokai Holokai will also determine the new SUPAM champions of the series.