Stand Up Paddling Going Big in 2011
SUPAM News Release
Those of you enjoying the new and exciting sport of stand-up paddling (SUP) have lot to look forward to in the coming year. Local supporters of the sport have formed Stand Up Paddle Association of Molokai (SUPAM) to support Molokai residents who want to participate in local races. Super serious about your stand-up paddling? At least two of Molokai's planned races will be sanctioned by the World Paddling Association (WPA) earning you points toward national rankings.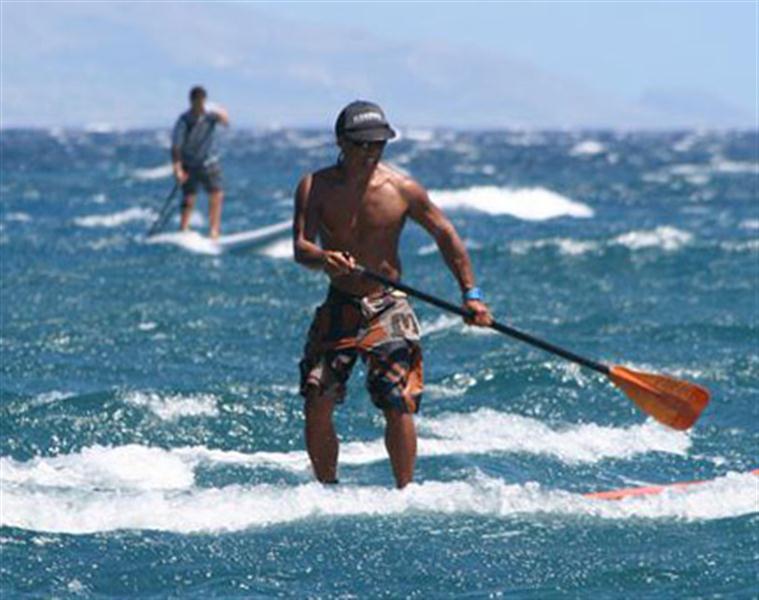 Winds of Change
Makani Ikaika o Molokai, or the Strong Wind of Molokai, is the name of the new race series. Given the green light by local kupuna, the name reflects Molokai's persistent east-to-west tradewinds – perfect conditions for competitive SUP racing.
The five-race series includes divisions for beginners, intermediates and advanced paddlers and feature categories for various ages, genders and boards.
The purpose of the series is "to allow Molokai paddlers to become champions in their divisions," according to Clare Mawae, event coordinator and director of Youth in Motion.
The eight mile advanced course will start from Kamalo; a four mile intermediate course begins at Rice Patch; and the two mile beginner's course starts at Ali`i Fishpond. All races end at Hotel Molokai.
Dates for the spring series are as follows: March 5 – 1 p.m. registration, 2 p.m. start; March 19 – 12 p.m. registration, 1 p.m. start; April 2 – 12 p.m. registration, 1 p.m. start; April 16 – 12 p.m. registration, 1 p.m. start; April 30 – 12 p.m. registration, 1 p.m. start. WPA sanctioning to be announced.
Molokai Holokai
After a great turnout in 2010, the Molokai Holokai SUP race will return this year to serve as the grand finale of Makani Ikaika o Molokai series. This combined race will take place on May 28, 12 p.m. registration, 1 p.m. start.
Save Some $$$
Thanks to SUPAM, it's just $25 for individuals to join the association, giving them access to all Makani Ikaika o Molokai events at no additional charge. Membership is $10 for youths under 18, and a flat rate of $50 for families.

For more information about joining SUPAM, please contact Clare Seeger Mawae from Youth in Motion at clare@youthinmotion.org or (808)336-0946.