Stan the Man
New principal appointed to Molokai High School
While Molokai High School freshmen have a lot of new faces to learn, this year the whole school met the new guy in charge.
Veteran educator Stanford Hao made it through a sea of applicants to take over as principal of the high school this year. His appointment came as no surprise given his extensive educational background and previous experience with Molokai High School (MHS).
In 1985, he began his teaching career at Molokai High and Intermediate School as a social studies teacher. In addition, Hao served as the adult school principal for two years and taught at Ka Papa Honua O Keawanui, a Kamehameha Schools alternative learning center, located on Molokai's east end. Returning from the Big Island, Hao plans to build on the success of past principals and restore the importance of academics in his new role.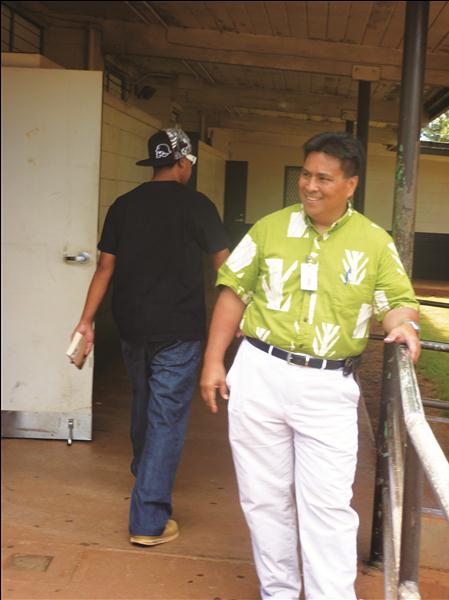 "Our community is passionate about athletics," Hao said. "We need to have the same type of passion about academics."
Hao said he wants to make parents and students aware of the validity of the Hawaii State Assessment exams and why they are taken every year. Data showed that MHS did not meet state benchmarks due to poor assessment scores last school year. Hao said he has already shared this data with students in their opening assembly and at the parent and student athlete meeting held this past week.
"I want our parents to understand that our children should be students first and athletes second," he stressed. "If showing achievement data at halftime is a way to inform our community and get their assistance and support, then that's what we'll do."
Among his goals for the school, Hao would like to re-establish an agriculture program. Hao said he plans to work with higher education and local agriculture businesses to provide MHS students with knowledge in agriculture as well as current techniques in hydroponics and aquaponics.
"We're the Molokai High School Farmers," he said. "We're the Farmers of land and sea, but we currently don't have an agriculture program."
Hao said he hopes to give MHS students the opportunity to learn "agribusiness" so future farmers can stay on Molokai and keep the revenue within the state.
"Molokai will be the bread basket to the state of Hawaii," he added.
Reconnected
Hao has been a product of the Hawaii Public School system since his teen years. After graduating from Aiea High School on Oahu, Hao attended Leeward Community College and University of Hawaii – Manoa. Following his teaching stints on Molokai, Hao headed for the mainland where he taught in California and Utah, as well as coached wrestling and a state championship football team.
He returned some years later to the Big Island, where he donned multiple hats in the education system including teacher, sports coach, vice principal and principal.
"I believe my professional experiences abroad have provided me with a vision that is broad, but can be accommodating to the community's desire to protect the Molokai lifestyle," he said.
While his experiences have guided him all over the nation, Hao said he is excited to be back where he first started.
"I feel humbled and blessed to have the opportunity to lead Molokai High at this time," he said.