St. Damien's One Step Closer to Reality
Maui County's Urban Design Review Board tweaked plans for the new St. Damien Catholic Church in Kaunakakai, but eventually recommended that the Molokai Planning Commission approve the church's special management area (SMA) permit.
The members of St. Sophia's Church on Ala Malama Street have been saving and planning for a bigger and better building for over a decade. Their plans became a little more concrete last week with a tentative seal of approval from the Urban Design Review Board. The $3 million project includes knocking down St. Sophia's and replacing it with a larger St. Damien's Church that will also provide space for offices and community services.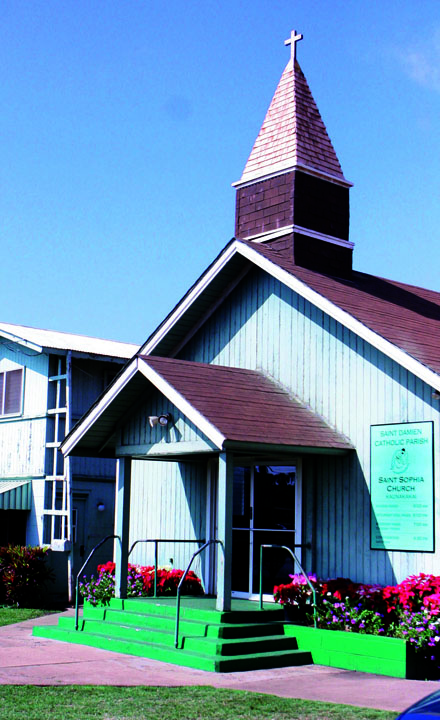 While the board members approved the design, they didn't do so without some debate. The trepidation was caused by confusion about the church's zoning district. The church, which is in a country-town business district, was being reviewed under the guidelines of a commercial building when the board should have considered it a civic building, according to planning consultant Chris Hart.
A country-town business district allows land owners to build commercial shops or civic buildings, such as a post office or a church. Hart said the civic buildings did not have to follow the same guidelines as the commercial buildings.
"They were upset because architecturally it didn't look like Friendly Market or the other businesses on Ala Malama Street," Hart said. "The question the review board was scrappling with is: does the design of the church have to comply with every detail that is identified for commercial buildings in the guidelines? And the answer, of course, is no."
Hart owns a landscape architecture business on Maui. He and his firm have been helping the church group obtain their building permits for the past two years.
The review board did ask Hart and architect Frank Skowronski to make some changes to help mesh the new church's design with the rest of the area. The large bell-tower entrance to the church will be scaled down from approximately 15 feet to eight feet. The church will also add a tree and residential bench along the sidewalk.
"Basically we just needed to be more sensitive to try to create a little more of a relationship between the church and the rest of the buildings on Ala Malama St.," Hart said.
Skowronski and Hart will modify the church's plans and meet with the county's planning department this week to make sure the new design is acceptable. With the design board's approval, the team will ask Molokai's planning commission for an SMA permit in the next few months.