Spring Sports Blossom
A new season welcomes a new line-up.
It's that time of season. The skies are beginning to clear up, the sun is becoming brighter and Molokai High School's spring sports are about to ensue. This season will see the Farmers compete in five different sports, and coaches predict nothing but a bright forecast for their athletes.
Tennis
While many of the spring sports are still in their pre-season conditioning phase, tennis got a head start with its first tournament this past weekend in Maui.
In a two-day series, the Molokai High boys' and girls' tennis teams were defeated in both matches. On Friday the boys lost to St. Anthony High School 3-2, while the girls lost 5-0.
On Saturday, Lahainaluna High School took a clean sweep over the Farmers, landing a 4-1 victory over the boys, and 5-0 victory over the girls.
Coach Stacey Horner said both teams went up hard against St. Anthony and Lahainaluna and did the best they could.
"They did pretty good for their first time," he said. "They're dealing with nerves and played two tough teams. Both [of the other] teams have veteran players so it was difficult."
Horner said they took only six girls and five boys, and therefore didn't have a full match over the weekend. Although the team opened the season with a pair of losses, Horner still remains optimistic for the team's season.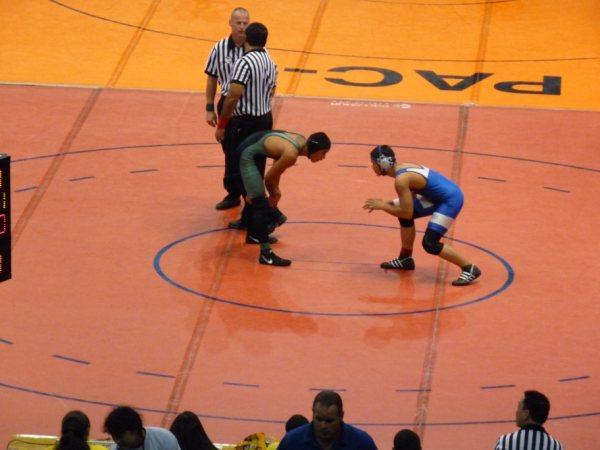 going really good. We're incorporating different approaches and new training techniques."
Last season saw a couple Molokai finalists in the MILs, and two girls even advanced to the state championships in high jump. And according to Ford, the team appears poised to do it all again.
The team's first meet will be the Satoki Yamamoto Invitational at the War Memorial Stadium in Wailuku March 19-20.
Boys' Volleyball
The boys' volleyball team will hold its first meet at Molokai High against Seabury on April 2. Coaches were unavailable for comment.
Wrestling Wraps Up Season
With three finishes in the state championships on Feb. 26-28, the wrestling coach reflects on their 'surprising' season.
"I think we definitely surprised some people," Coach Randy Manley said. "We were a very young team experience-wise and ended up finishing second in the MILs."
Of the eight Molokai High wrestlers that qualified for the state finals on Sunday at Blaisdell Arena in Oahu, Charisse Manley (130 lbs) placed fourth overall for the girls, and Delfin Corpuz (152 lbs) placed fourth for the boys, while Mikayla Pico (98 pounds) placed sixth overall.
"I wasn't too surprised with the results," Manley said. "I thought we would end up with a few more thirds – they missed it just by one point – but overall they did well."
As for next season, Manley has high hopes.
"We have few seniors coming back, but a strong core," he said. "I'm looking forward to see how they do."