Split Decision
Farmers win season opener, fall in rematch the next day
The Molokai girls' basketball team tipped off their season at The Barn last weekend with a win and a loss against visiting King Kekaulike from Maui. The Farmers came from behind Friday night to pick up a 37-30 win before dropping the rematch 40-37 the next morning.
"Both these games had a similar hard fought style," said Molokai coach Michael Hooper. "The girls need to learn how to play these types of games if we want to repeat for a state championship."
Friday night's game was also the debut of The Barn's brand new gym floor. The bright new parquet with a fierce-looking farmer at mid-court was designed by William Kaole Place with help from one of the school's art classes.
"The new floor was nice. It was a little slippery at first, but after that it was great," said senior guard Danna-Lynn Hooper.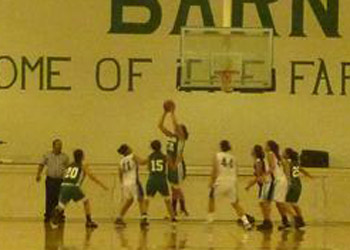 played really well," Michael Hooper said. "I think we're going to have a pretty good team."
Round Two
The following morning, Molokai and King Kekaulike were back in The Barn for a rematch. This time the Farmers' comeback fell just short.
Once again it was three-pointers from King Kekaulike's Carillo and junior Tori Kawahara that put the Farmers behind in the first half.
Molokai kept things close until Na Ali`i sophomore Jennifer Treu scored seven straight to give her team a 29-22 edge with time running out in the third quarter.
Jolenta Duvauchelle had a pair of clutch hoops to keep the Farmers close late in the game, but King Kekaulike was able to control the ball and take away too much time in the final quarter.
"We need to work a little more on ball control, sticking with the defense and our mental preparation," Danna-Lynn Hooper said.
Coach Hooper said with only 10 practice days before their first game, he wasn't surprised the girls weren't completely mentally prepared.
"It was kind of expected," he said. "But this is what we'll be facing all preseason – big, quick and aggressive."
King Kekaulike is one of the several Div. I teams Molokai has slated for their 12 game preseason schedule. Coach Hooper said the tough line-up was necessary to have the team ready for the postseason.
The Farmers get back on the court this weekend for four games in four days on the Big Island. All four of their opponents are Div. I teams including last year's champions, Konawaena.