Spelling Creates a Buzz
Nunez and Davis win Kualapu`u Spelling Bee.
Community Contributed
By Noa John Horner
Kualapu'u School held their annual School Spelling Bee on Jan. 7. Congratulations to Kamalei Davis who was our runner up this year and to Geisha Nunez who won first place. These two students will be representing our school in Maui on Feb. 11 at the Maui District Bee. If successful, they will be eligible to compete at our state level in March and hopefully continue on to national recognition in May.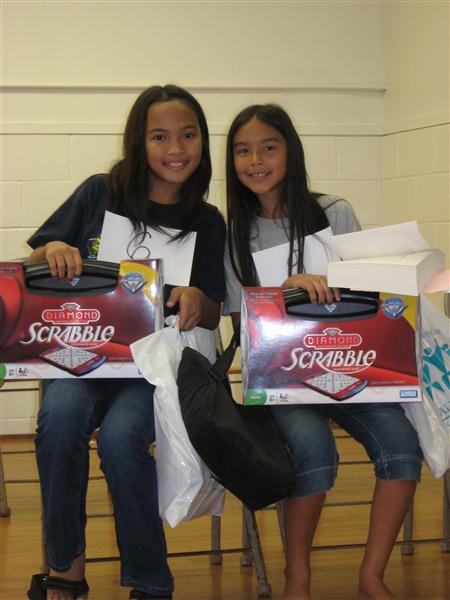 Administered by the E.W. Scripps Company, the nation-wide spelling bee is the largest and longest-running educational promotion in the country. The purpose of the popular bee is to help students improve their spelling, increase their vocabularies, learn concepts, and develop correct English usage that will help them all their lives.
This year we watched 16 students from Kualapu'u School compete for the two top seeds to advance to the district level. The bee went through 12 intense rounds before a winner could be chosen. It was ultimately decided when Geisha Nunez got the correct spelling of the word "opacity." Congratulations to Geisha for a job well done.
Gift bags with various school supplies were presented to all 16 finalists. Our two top winners went home with gift bags, school packs, a dictionary, a Scrabble game and cash prizes. The Spelling Bee Committee would like to thank Alu Like, Queen Liliuokalani Trust, Kualapu'u School, and Kualapu'u PSO for their generous donations to our winners.
We would like to say a very special Mahalo to Andreana Reyes who coordinated the whole event. All the time planning and preparing really made this event a successful one. Thank you also goes out to Faith Horner, Minky Young, Christine McGuire, Ted Takamiya, Leila Elia, Brianne Naeole, Tarrah Horner and Lydia Trinidad. Thank you for your time and expertise. Thank you also to all the families who helped and supported their children in this year's spelling bee.
Congratulations to all our students who participated. Study hard and we'll see all of you next year. Finally, good luck to our two students, Geisha Nunez and Kamalei Davis, as they prepare for the upcoming bees.