Special Chamber Music Performance
MAC News Release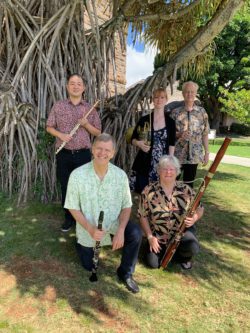 Make way! Come enjoy a performance by Chamber Music Hawaii of "Paka'a Lanakila!" in a Hawaiian language storytelling about a boy's triumph over local fishermen. Written for wind quintet, narrator, and Ka'eke'eke, with overhead English translation, experience the excitement of Paka'a outsmarting everyone, even his doubting family.
Composed by Dr. Jon Magnussen, the event features the spring wind quintet and master storyteller Kalama Cabigon. Overhead projection including artwork by Karen Loebel-Fried and English translations will accompany the performers.
The event is on Monday, March 20 from 6 to 7 p.m. at St. Damien of Molokai Parish Church located in Kaunakakai. This special program is free and open to the public. Bring your friends and family!