Soup 'R Bowl Saturday
By Jack Kiyonaga, Reporter
Hundreds of bowls filled the tables at Lanikeha Community Center last Saturday. Guests lined up out the door, tickets clenched, pondering the big decisions for the night: what will their new bowl look like, and what kind of soup will fill it?
Now in its 13th year, the Soup 'R Bowl is a soup themed fundraiser for the Molokai Arts Center (MAC) at which participants choose a type of soup and hand-made ceramic bowl to take home, amongst other artisanal gifts. The sold-out event featured a range of artwork from ceramics to music and dance performances.
This year, attendees were able to choose between four types of soup: Portuguese bean soup, donated by the Kanemitsu family, chicken tinola, also donated by the Kanemitsu family, sea food chowder, donated by Mike Holm, and caldo verde, donated by Carol Rocha.
The 440 bowls available were made by 10 local artists, explained MAC Executive Director Alice Kaahanui.
The bowls ranged in shape and style, with one to meet each attendee's taste. The colors of ceramic bowls come from the metallic properties in the glaze. Each glaze heats and dries in different ways, rendering every bowl unique.
One artist, Ashley Ingram, explained that crafting a bowl can take up to four days to design, shape, heat and finish. For Ingram, who is also a teacher at MAC, working with pottery goes beyond the artifact itself.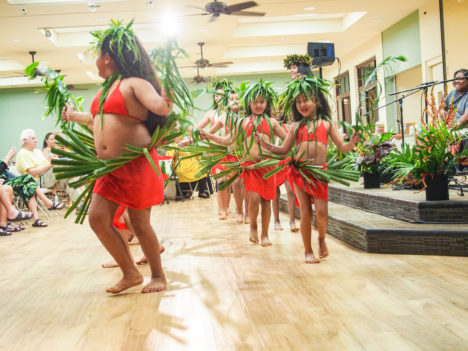 "Making the art is like meditation," she explained.
Local artist Paula Scott likewise expressed her belief that the role of art transverses the studio. Rather, art becomes a way of accessing one's creative thought processes, Scott explained, which can be applied to all fields.
"Problem solving is a creative process," said Scott.
Founded in 2012, MAC serves residents of all ages and skill levels. Beyond ceramic work, the arts center offers programs in watercolor painting, print making, Hawaiian arts, book readings and more.
"I think our role is providing that supplemental aspect to education," said Dan Bennett, one of the founding members of MAC. "One of the reasons we started this was because we were the only island without an arts center."
Having an arts center means "bringing the arts to the community and the community to the arts," said Bennett.
MAC actually started with ceramics classes in Bennett's own home, growing into the muti-faceted programs offered today out of a studio space located at Coffees of Hawaii. The money raised by Saturday's event goes to support operational costs for MAC.
"If you're a grant writer in the arts, it's really hard to find money for operational funds…just to keep the thing operating on a daily basis, that's the hard part," Bennett explained.
Molokai residents can look forward to MAC's next event on March 23 at St. Damien's Church. Free of cost, MAC will be sponsoring a performance of Hawaiian chamber music accompanied by overhead projection artwork.