Soup 'R Bowl Reimagined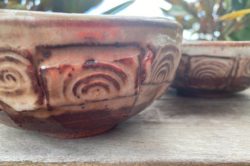 MAC News Release
Due to current COVID protocols, the Molokai Arts Center's 2021 fundraiser will be more streamlined with the same featured ceramic Soup 'R bowls made by Molokai artists. Instead of a sit-down dinner, the event will be a walk-through, take-out event. A highlight will be a "Meet the Artist" hour for premium ticket holders. Details on purchasing tickets online coming soon. Go to molokaiartscenter.org/news and sign up or join our Facebook page to be the first to know. Save the date for Saturday, March 6.
This year the pandemic has prevented many annual visitors from joining our annual Soup 'R Bowl fundraiser. We've asked our local artists to create fine art treasures that are ready for shipping. If you can't visit us this year, you can still support the Molokai community by purchasing our online
auction items. Bidding begins at 12 p.m. HST on Feb. 12 and ends 8 p.m. HST on Feb. 19. Auction can be found at mac.betterworld.org/auctions/good-things-small-packages/.
Coming soon…Pana'i Aloha-Giving Back to Molokai. Thanks to grants by Maui County Office of Economic Development and Atherton Foundation, as well as generous donors, the MAC will soon offer three months of free classes and workshops. Classes will be first come, first served. Dates and more details forthcoming.
The MAC currently offers keiki classes and open studio time to create. Email molokaiartscenter@gmail.com to sign up.