Soup R' Bowl Fundraiser
MAC News Release
Molokai Arts Center (MAC) invites everyone to the third annual Soup R' Bowl fundraiser March 16 at Coffees of Hawaii in Kualapu`u. MAC is helping Coffees of Hawaii celebrate the 200th anniversary of coffee in the Hawaiian islands. With hundreds of beautiful bowls, this Soup R' Bowl promises to be the best yet.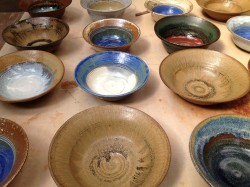 Soup will be served from 5 until 7 p.m. The public can sip on soup and enjoy the tunes of jazz pianist David Henderson, followed by the U.S. Air Force Band.
The soup choices include: vegetarian pumpkin, tortilla, chicken with wild rice, Portuguese bean and chili. All soups come with an option for rice, salad, bread and a drink. Soup sippers can take home a unique soup bowl created by a Molokai artist.
Tickets are $20 and can be purchased at Take's, Blue Monkey, MAC or through MAC members. Funds raised from this event will go toward helping defray cost for the children's music and art programs as well as sustain the operating cost of the center.
The 2013 Soup R' Bowl is dedicated to one of our beloved MAC artists, Annett Pauole-Ahakuelo.
More information about the event and MAC is available at 567-9696