Soup 'R Bowl Coming Saturday
MAC News Release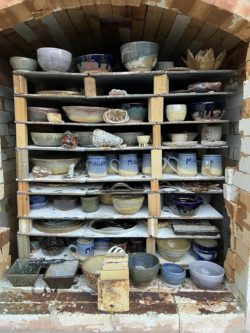 There are only a few more days left to purchase tickets for the 2023 Molokai Arts Center (MAC) Soup 'R Bowl. The 13th annual fundraiser event will be held at Lanikeha Community Center in Ho'olehua, on Saturday, March 11 from 5 to 8 p.m.
What happens at the Soup 'R Bowl? A ticket gains you entrance to tables lined with over 300 ceramic bowls (and a few Molokai mugs) handcrafted by artisans at the Molokai Arts Center. Redeem your ticket stubs for a bowl or mug of your choice as well as a hearty soup meal. This year you can select from Portuguese Bean Soup, Chicken Tinola, Seafood Chowder, or Potato/Kale Soup (Garrick Kanemitsu, Mike Holm, Carol Rocha). The meal also includes a fresh green salad (Mike's Catering), bread (Valerie Dudoit-Temahaga), dessert (Desi Mendija) and a drink. Make it a night out with your family, your classmates, your friends. Enjoy light conversation and local entertainment by Melia, Bob Underwood and John Aki, and Tahitian dance troupe, Te Ora Roa.
Buy your tickets online at bit.ly/3JE5Mos until 10 p.m. Friday, March 10. If you prefer paying by cash or check, tickets are also being sold at the MAC studio until 4 p.m. Thursday March 9 and at Take's Variety Store until Friday, March 10 at 5 p.m. Additional pottery and art will also be available for sale.
Proceeds benefit Molokai Arts Center, Inc., a nonprofit arts education organization. Besides the popular ceramics classes, the MAC offers keiki classes, Hawaiian Arts classes, Artist-in-Residence, visiting artist workshops, Art Bar and partners with Kualapu'u School 21st Century after school program, Molokai Rural Health Community Association for kupuna, Halawa Tropical Plants (watercolor painting, the art of chocolate), Chamber Music Hawaii, among others. MAC is also fiscal sponsor for Molokai Instrumental Music Education (MIME) Program, Malama Molokai Wellness, Hokulani Children's Theatre of Molokai (Hokulani CTOM), and Te Ora Roa, bringing even more programs to Molokai.