Sounds of Support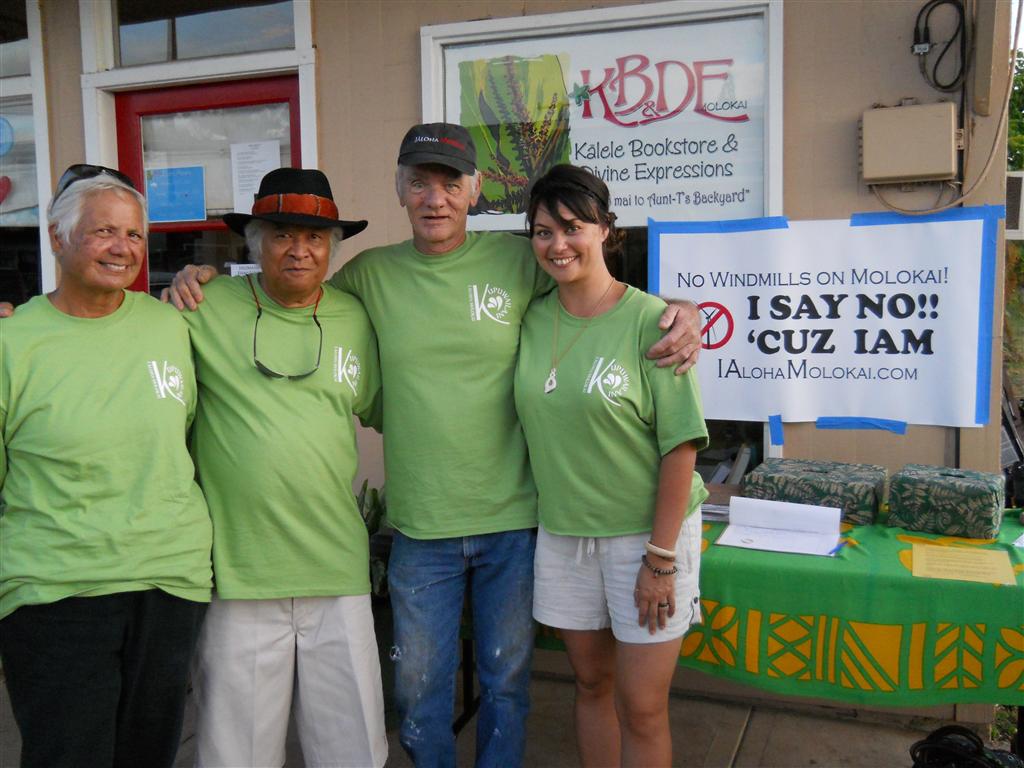 Blending art, awareness and activism, I Aloha Molokai (IAM) hosted a sunset concert last weekend, seeking donations toward future IAM films and projects.
The organization also called for the people of Molokai to aloha their `aina, which they said would not include building industrial wind turbines.
Dozens of supporters turned out for the show, which featured IAM organizer Kanoho Helm and his band, the Anahaki Box Band, playing in the grassy area next to Kalele Bookstore. Many wore their newly purchased green IAM T-shirts, which are available at the bookstore for a $10 donation.
Part of the money raised will fund promotional films produced by award-winning documentarian PF Bentley, who already created two IAM films pro bono and has plans for several more. One of the films, called "I Aloha Molokai," can be viewed on fundraising website Kickstarter.com, where Bentley has set a goal of raising $10,000 by Oct. 9 for future IAM projects.
The group's T-shirt design is based around Kamakou's Kupuwailani water source, known to be a healer for some, according to a mo`olelo passed out with the shirts. Kupuwailani literally means "heavenly water emerges from within," stated the mo`olelo.
"Our kuleana is a vehicle to experience the sweetness of this sacred water, namely, the benefits that Molokai bestows for those who malama `aina," the handout reads. IAM supporter Teri Waros said the symbolism of Kupuwailani reflects IAM's stance of not only industrial wind turbines, but supporting the protection of the land.
Waros, who owns Kalele Bookstore, said community members may visit for educational information about large-scale wind farms, the proposals on Molokai, and other energy alternatives. They may also view Bentley's films at the store.
"Nobody needs to be pressured, nobody needs to be scared," she said, adding, "People have to do their homework … and make decisions. It's our kuleana to make the right choices."