The Sound of Safety
Tsunamis. Earthquakes. Hurricanes. Acts of war.
Hawaii's Department of Defense (DOD) uses civil defense sirens to alert residents when emergencies strike, and it's time to make sure they're fully functional and standardized, according to officials.
With some of Molokai's 11 sirens built as early as the 1960s, the DOD wants to upgrade six of them – and add six more – as part of a statewide project approved by the state legislature earlier this year. On Molokai, that means making all sirens omni-directional – a circular design that provides premiere sound coverage – and making sure they're solar-powered with back-up battery systems. The process will also standardize the wireless control system the DOD uses to activate the sirens, according to Hawaii Self Civil Defense spokeswoman Shelly Ichishita.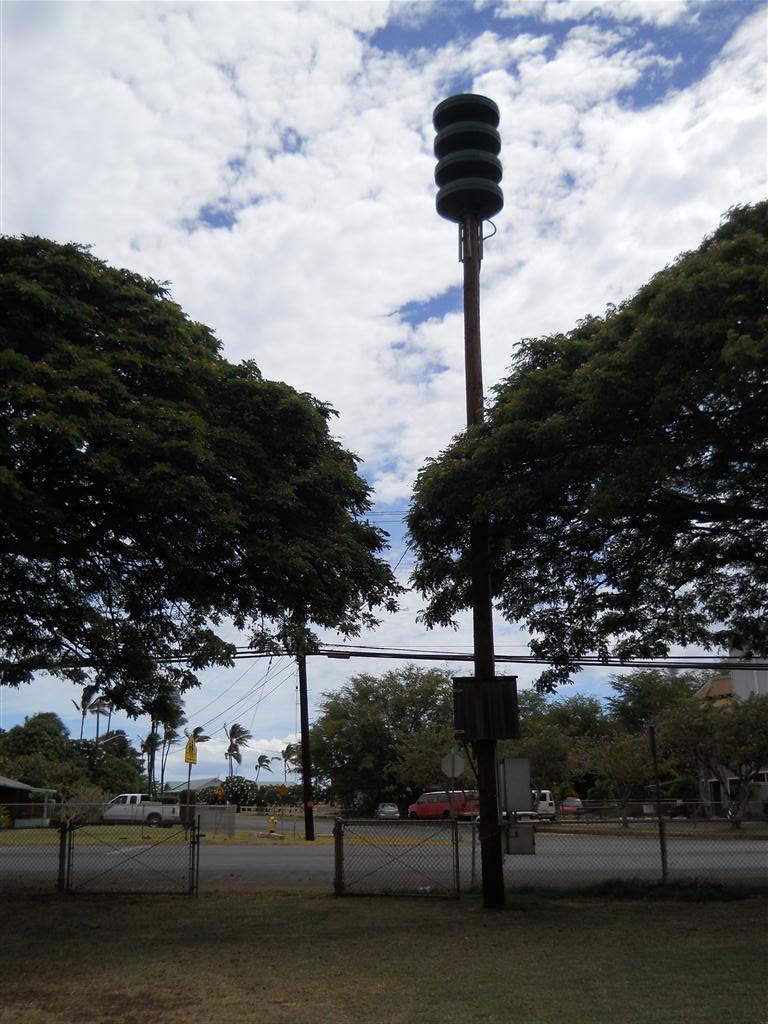 Travis Tancayo, fire captain with Kaunakakai's Engine 4, said sirens are an essential part of safety when disasters strike.
"A lot of times people don't have radios or televisions, so as a last resort we depend on those sirens," he said.
The process took a step forward this month when the Molokai Planning Commission (MoPC) unanimously approved special management area (SMA) exemptions for sirens to be replaced on specially regulated coastal land at Kamiloloa (near Hotel Molokai) and One Ali`i Park. A third siren, to be built at Duke Maliu Park, would replace a current siren at Kaunakakai Elementary School.
The DOD also hopes to upgrade sirens at Kalamaula Park, Kilohana Elementary School, Kamalo and Maunaloa, according to information provided by Department of Accounting and General Services Planner Brian Isa, who is overseeing the permitting process on behalf of the DOD.
The DOD has also secured funding to build new omni-directional, solar-powered sirens at Papohaku Beach Park and Kaunakakai's Pu`u Hauole Park, he said, and are awaiting funding to build new sirens Molokai High School, Kualapu`u Park and the Kalae Picnic Area.
Permitting is nearly complete for all sites except the Kalae Picnic Area and Kalamaula Park, which are awaiting funding and Department of Hawaiian Homelands approval, according to Ichishita.
If the process goes as planned, she expects construction to begin after a building contract is awarded around November. The construction should take between 90 to 120 days, she said.
Each siren costs about $85,000, including equipment and installation, according to DOD Assistant Communications Officer Fay Alailima-Rose. Like existing sirens, new sirens would be mounted on brown polls about 50 feet tall.
Alailima-Rose, who attended the Aug. 3 MoPC meeting, explained old sirens would be removed once new ones are functional, and confirmed an archaeological monitor would be constantly on site during all construction.
Although Molokai's height limit for SMA structures is 35 feet, she said DAGS would apply for a height waiver if necessary because 50-foot sirens provide about 1.3 square miles of coverage, while a shorter siren would provide less.
"I totally support any safety for this community, so I totally support this project," commissioner Lori Buchanan said July 27.