Sophia Investigation Lingers
Police department awaits new leads.
While the Feb. 10 fire that gutted St. Sophia's Church has propelled plans to build the new Saint Damien Church, the fire's cause still remains under investigation.
Now that the Maui County Fire Department has wrapped up its preliminary investigations, the case has been turned over to the Kaunakakai Police Department.
The pending investigation is open to the possibility of either arson or accidental cause.

"Often time investigations are left open until new developments or leads arise by talking to people or any kind of physical evidence is found," said police Sgt. Eugene Santiago. "Electrical [cause] has been excluded."
Mahina Martin, Maui County communications director, said the demolition permit application for St. Sophia's has been received by Maui County, processed by the Planning Department and currently under review by the Department of Public Works.
Name That Church
Throughout time, the St. Damien Catholic Parish – and its four churches – has weathered change, especially with its name.
Prior to St. Damien being canonized in October 2009, the parish was known as Blessed Damien Catholic Parish. Once the priest was declared a saint by Pope Benedict XVI in Rome on Oct. 11, the parish changed its name to St. Damien Catholic Parish in honor of the canonization.
Its four topside churches – collectively known as the Molokai Catholic Community – all retained their names except for St. Sophia's, which will soon be known as Saint Damien Church.
Our Lady of Seven Sorrows, Kalua'aha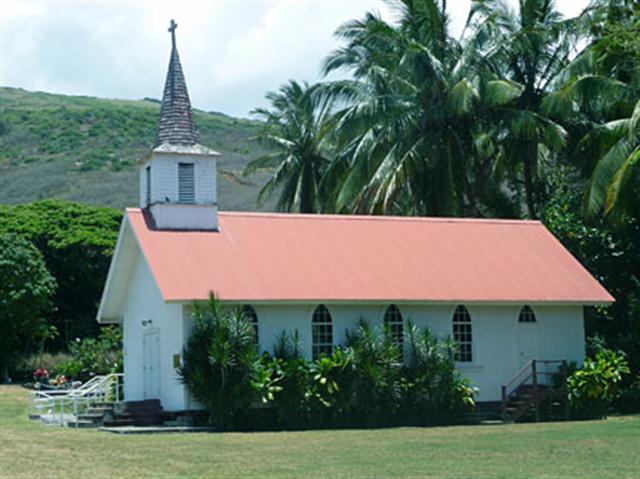 Located on the west end, St. Vincent's was built in 1940 as a mission of the previous Sacred Heart Parish, whose priests still practice in Molokai today, in Ho`olehua. Mass is held at St. Vincent Ferrer once every Sunday.