With a Song to Share
Community Contributed
By Diane Abraham
We are indeed blessed on Molokai. The natural beauty all around us is only sweetened by the people who call this `aina their home. Lono, with his musical talent and mana`o, is one such person.
Recently, the fourth graders of Kualapu`u School have been graced by his generosity. Crowding 62 nine and ten-year old haumanu into Ms. Abraham's classroom, the keiki have learned a mele about our favorite monk seal, KP2. KP2, which stands for Kauai Pup Two (Pup one from the same mother was likewise abandoned at birth and died shortly thereafter), has properly been given a Hawaiian name: Ho'ailona.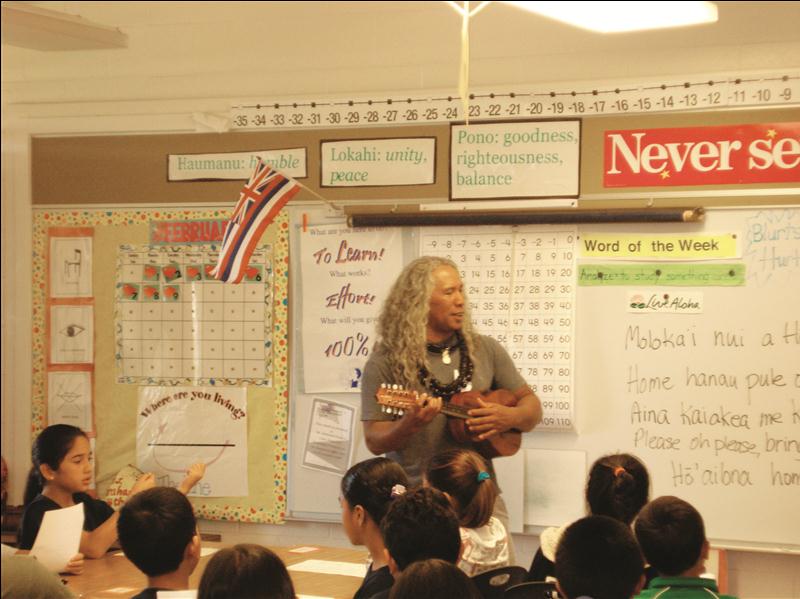 Lono's song about this punahele pup has filled our hearts, our ears, our voices and our class.
Mahalo to this awesome man who shows that one person can make a difference: in this case, in not just one life but in the lives of 62 young people, and no doubt, their three teachers!
There's even a sweet touch: at a presentation in Honolulu of Ho'ailona, Lono played the recording he made of the children singing the chorus (hui) while he sang the verses. The audience and moderators were brought to tears by the sweet singing of the Kualapu`u haumanu. The recording has been aired on the radio (FM 102.3)…keep listening! How wonderful that Lono has opened this opportunity for the young people of Molokai to express themselves in song. One never knows what the future holds; we can only do what Lono has done: seize the moment and let Akua chart the course.