Something to Hold On To
By Linda DeGraw
Have you seen or received a Kissing Pillow? Or are you one of the many stitchers who make Kissing Pillows for our Armed Forces and their families?
The Kissing Pillow project was started in Texas in 2004 and has blossomed across the United States and into Canada. My son-in-law received a Kissing Pillow in 2008 during his first tour of duty in Afghanistan. My sister in Miami, who belongs to the Royal Palm Chapter ANG (American Needlepoint Guild) and the Biscayne Chapter of Embroiders Guild of America (EGA), asked her group of stitchers to make a few pillows for members in our family then serving overseas.
When my daughter left for Afghanistan in January, I wanted her and her company to have the Kissing Pillows too. After first checking with our FRG (Family Readiness Group) chair, Michelle, she was excited by the idea and shared it with her husband, who was commander of the company. I called my sister and asked for her help, which included all of her stitching group (a big mahalo to you all). There are 205 pillows finished mostly by the Royal Palm Chapter ANG and the Biscayne Chapter EGA to be sent to families and soldiers by our FRG Chair.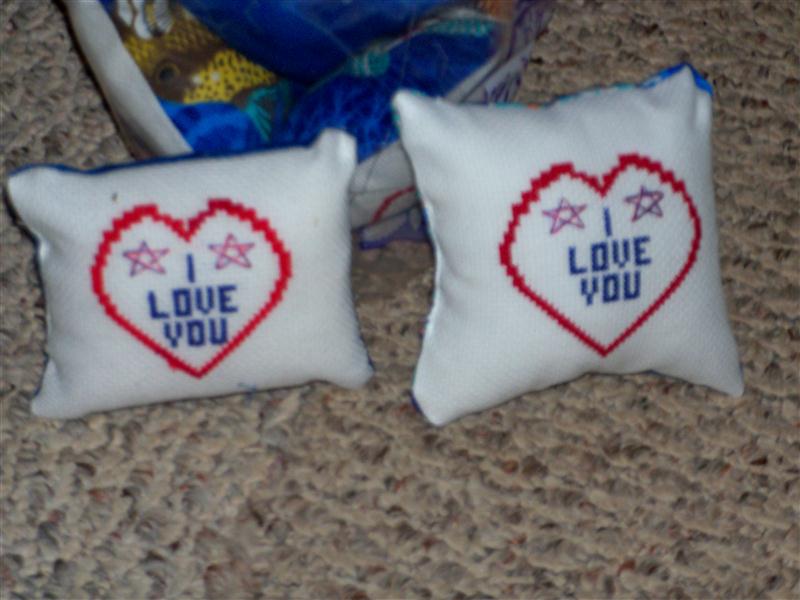 Everyone who hears about this project is excited. There are so many people who would like to do something concrete for our service members but there is little they can do. This was a project that makes it easy for people to give back. This project is not about war. It is about the loved ones left behind, especially the children. There are so many soldiers all over the United States being deployed for service to our country. The objective is to give the soldiers and each of his or her loved ones something to hold onto during the difficult months ahead.
Mahalo to everyone who has helped, especially Charline Souza, Michelle Montgomery, and Kerry Seibel. And don't forget to keep all our service personnel in your prayers.