Solar Maxed Out…Again
Residents looking to include renewable energy to power their homes in Kalae, Kualapu`u and parts of Ho`olehua must now join the waiting line. Like Kaunakakai, the power circuit is temporarily tapped out.
Two recent applications for solar energy systems from Coffees of Hawaii and the Molokai Arts Center, located in Kualapu`u, brought Molokai's northwest circuit to its limit of 15 percent renewable energy.
Molokai's island-wide power grid, which is supplied electricity from a Maui Electric Company (MECO) diesel-powered plant in Pala`au, now needs an interconnection study, according to the utility. The study would determine whether or not MECO can maintain reliable utility services to Kaunakakai and northwest Molokai, should further renewable power be added to the respective circuits. Previously, the cost of the study was placed on the customer – estimated by MECO to be between $30,000 and $35,000.
"It already hurts business," said Matt Yamashita, Rising Sun Solar salesman on Molokai. "[There are] two large pools of Molokai residents who basically can't afford solar right now."
However, hope appears to be on the way. MECO recently received federal stimulus funds it plans to use for the interconnection study on Molokai's grid. The study is scheduled to begin early next year.
Tapped Out
Each island has its own separate electric system also known as a grid. The grid, broken up into various segments called circuits, can only handle a certain amount of renewable energy. This is because renewable energy sources fluctuate (think of moving clouds that can block the sun from a solar panel) causing unpredictable surges of electricity. To keep the island from going dark on a cloudy day, the Hawaii State Public Utilities Commission (PUC) limits the amount of renewable energy allowed within the grid.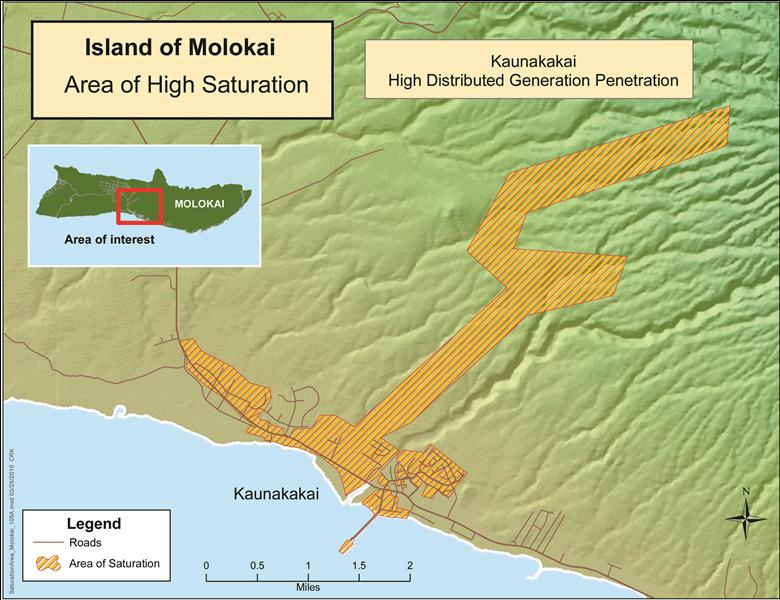 Looking Forward
To help utility companies comply with the state renewable energy goal – 70 percent clean and renewable energy production by the year 2030 – the Department of Business, Economic Development and Tourism (DBEDT) recently released $2.1 million of stimulus funds to the Hawaii Electric Light Company and MECO to pay for energy storage units and to fund the Molokai interconnection study.
Molokai has some of the highest utility rates in the state, Besasso pointed out, and solar power can bring those costs down and create jobs at the same time. Solar companies, utility companies and the state need to work together:
"Hawaii is the new test bed in the nation for figuring out some of these problems," he added.
The study is likely to shed new light on Molokai's grid capacity – possibly opening the circuits to additional renewable energy systems.
"We recognize Molokai as a solar and wind resource," said Ted Peck, a state energy administrator for DBEDT. "We want to enable that, in a cost effective way for people."
Cost is number one on some residents' minds. Sue Forbes already utilizes solar for heating water in her home. However, when she learned how affordable solar installation is becoming, she began to look into how to expand from a few panels to a system that pays for itself in electricity savings.
"Where we live, the sun is out all time," Forbes said, adding her electric bill went up "quite a bit" last month when rates were raised.
Solar energy, she added, "makes sense – people are always talking about being sustainable, if it's possible why don't we all do it?"
Reporter Abby Spegman contributed to this article.