Softball Starts Strong
Lady Farmers Down Lanai
The Lady Farmers softball team went up against the Lanai Pine Lasses this past weekend on home turf, and started the season 2-0. Molokai came out full-force on Friday afternoon at Duke Regional Park – by the third inning, Molokai was on top 11-2 and by the end, the Lady Farmers bested Lanai 17-2.
The mercy-rule came into play after three innings.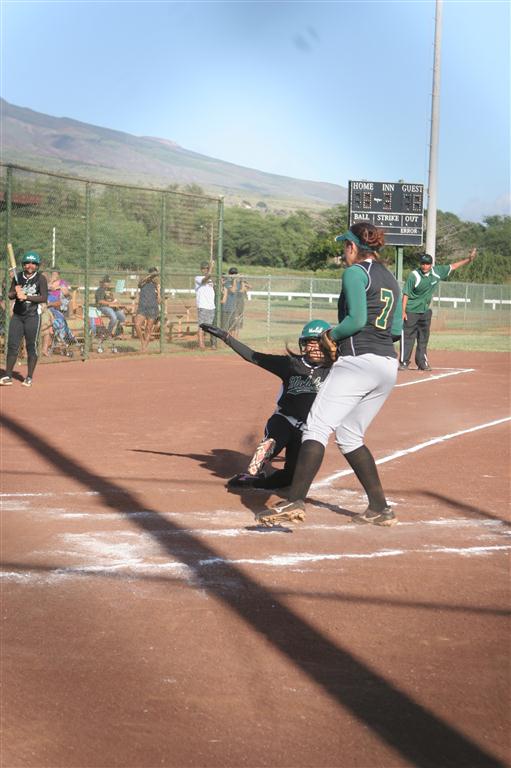 Dirt was flying everywhere infield, with multiple stolen bases from Molokai, including one home steal to make it 11-2 in the third inning.
"Everybody worked really well together. But we will have to work on our communication as a team," said Tootie Rawlins.
Coach Coco Augustiro said she believes her team is ready for next game against a tough Seabury Hall next weekend on Maui.
"We should work on our batting, but I'm really proud of all of them and how they played," she said.
Saturday afternoon's match was played a little "slower," according to Augustiro.
After six innings of play, the mercy-rule went into effect again with a final score of 23-7. The Pine Lasses went through three different pitchers.
Tyre Garcias Reyes hit a three-run homerun and Rawlins had two-run triple.
The Farmers will head to Maui this weekend to play Seabury Hall.
"I'm looking forward to it. I'm really curious about Seabury, because we haven't really seen what they have to offer yet," Augustiro said.