Softball Secures Undefeated Regular Season
The Lady Farmers' softball team remains undefeated when they bested the Hana Dragons last weekend with a pair of exciting wins. The victories claimed the Farmers the Maui Interscholastic League (MIL) Division II regular season crown.
They will have a shot to win it all when they compete in the MIL championships, beginning this Thursday in Lanai City.
"Our goal is to win MILs and finish what we lost last year," said Kayla Tanner-Davids, catcher, after Saturday's win.
The Lady Farmers, with a season record of 8-0, defeated Hana on Friday evening 5-2.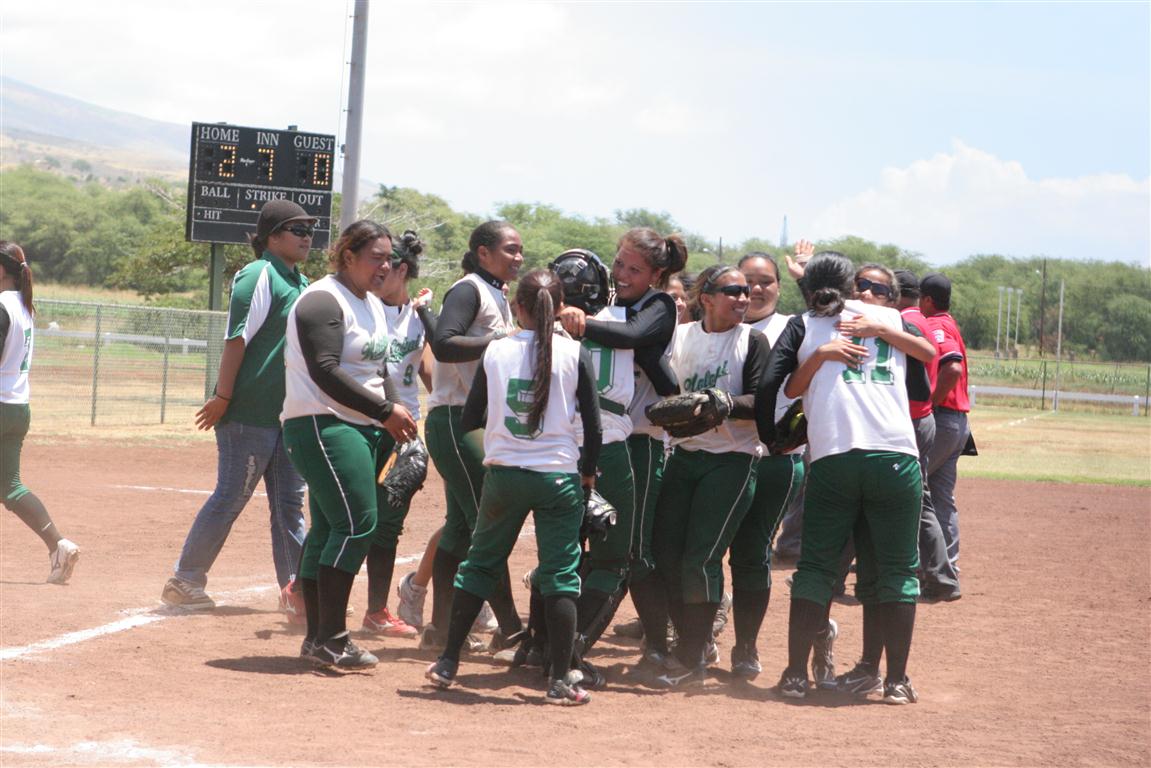 "The girls played very hard and they wanted to win, so they went for it. I'm really proud of them," said assistant coach Loke Kamakana.
On Saturday, Molokai led most of the game, with help from pitcher Jasmine Borden, who allowed three hits and struck out eight.
"I feel like we played really well today and we are ready for the MILs," Borden said.
The Lady Farmers' led in the first inning 3-0. As the Dragons gained the lead and the score went up 6-4, Molokai fans started to get worried and the Hana fans started to get louder. The Lady Farmers made defensive errors on routine plays.
But Molokai caught up and tied it 6-6 by the sixth inning. They continued their rally into the seventh inning, not letting up on defense or offense.
Molokai ensured their tournament berth in the bottom of the seventh inning. Natalia Levi hit a two-run RBI to make it 8-6 and the deal was sealed after Kayla Tanner-Davids hit in two more RBIs with an in-the-park single.
"I feel great. I wanted to steal bases and hit an RBI. I met my goals," Tanner-Davids said.
Levi made the final out as she snagged a fly-ball in center field. Her teammates flocked to mid-field for celebration.
"I think our playing today was super," said Tootie Rawlins, catcher. " This was what we have been waiting for all season."
In addition to playing in front of a supportive group of Molokai parents and fans, the Lady Farmers also battled it out this weekend in front of a raucous Hana fan base.
"Hit the ball, long and hard!" they chanted in unison.
But Molokai did not hesitate to be hospitable to the Hana players. Both teams sang the Molokai anthem together and even joined each other in a dance on the field after the game.