Soap for Molokai, Pride in Residency
Molokai Soaps has its own shop now, and owner Patricia Hammond hopes to bring some pride in residency to Kaunakakai. This means she's working on beautifying town and encouraging others to follow suit.
She moved her business into a portion of the old Fish and Dive on the main strip of Ala Malama Street. The remaining portion of the former dive shop, though empty, is now a little livelier thanks to Hammond's initiative.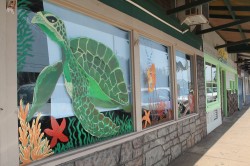 "This is the first thing you see when you come into town," Hammond said as she stood outside the store next to her soap shop. "And unfortunately it's an ugly building."
Hammond took it upon herself to add a little life to the abandoned store, so she called in for back up and worked into the night last Sunday. Monday morning's visitors and residents were greeted with a seascape of fish, coral and sea turtles, which now replaces the once-drab demeanor of the building.
She stressed how easily she accomplished the beautification of the building. Hammond's friend Kalae Tangonon and her sisters used donated paint and offered their labor free of charge. A Molokai resident then offered to donate his time and use the remaining paint to bring fresh color to the building itself. Hammond said the change is proof that the people want their town to look good.
Change did not take long, though. Hammond had been in business for two weeks when she called the building's owner for permission to paint. She said during this time, business has been good.
"People want to know how I can sell just soap, but everybody needs soap," she said. "For those concerned, don't be. Soap sells itself."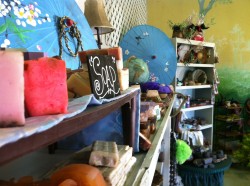 Every bar of soap in her shop is $5, tax included. She said she keeps her prices affordable so that locals can enjoy her soap. "Visitors come in saying I should raise the price of my soap by 20 percent," she said with a laugh. "Can you believe it? They're asking me to raise my prices. I just tell them to buy more, because I'm not raising my prices."
You can also find Hammond and her soaps at Na Kupuna at Hotel Molokai on Friday nights and at the Saturday Market in town. She'll also be at the Coffees of Hawaii festival this weekend offering ten specialty soaps inspired by coffee.
Running the store and various vending locations while making enough soap to meet demand keeps Hammond busy, so she is teaching her hanai daughter Kauwela Kalawe the tricks of the trade.
"She works for love and soap," Hammond said about Kalawe, noting that as a new business she can't yet afford to pay someone to work for her. She cannot even pay herself, she added casually. But she meets cost so that her soap making can continue.
Hammond hopes the space will evolve to include a meeting place that might host a Hawaiian language, hula and drumming classes as well as meditation sittings.