Small Island, Big Health Care
Second in a 3-part series about health care on Molokai.
For an island of its size, Molokai has a remarkable range of choices for health care. From primary care to visiting specialists, Native Hawaiian health to diagnostic testing, medical services on the Friendly Isle have made many strides in the past 50 years. As providers multiply and diversify to serve a limited patient clientele, collaboration and communication becomes increasingly crucial to best fill the medical needs of the public.
Molokai General Hospital
MGH offers the only emergency health care on the island, among many diagnostic services, primary care partnerships and visiting specialists. Mammography, introduced in 1989, CT scanning, begun in 1999, a women's health center since 1985, and 24-hr X-ray, chemotherapy and ultra sound services make MGH one of the most advanced facilities among small islands. In addition, the hospital attracts nearly 20 specialists in a variety of fields who visit regularly to provide gastroenterology, general surgery, cardiology, Veterans Affairs psychiatry and many others. MGH also works with primary care physicians Drs. Sandra Brazzel and William Thomas at the nearby Rural Health Center.
"We do anything we can to economically keep people from having to go off-island," said Janice Kalanihuia, president of MGH.
In 2002, MGH, under Queen's Health Systems, launched a campus redevelopment plan to improve and expand its services. It renovated the existing 22,000 square foot facility and added an 11,000 square foot wing. Original plans included a community health center on hospital grounds, according to MGH Vice President Randy Lite. But the community group spearheading a Molokai community health center chose to keep the organization freestanding.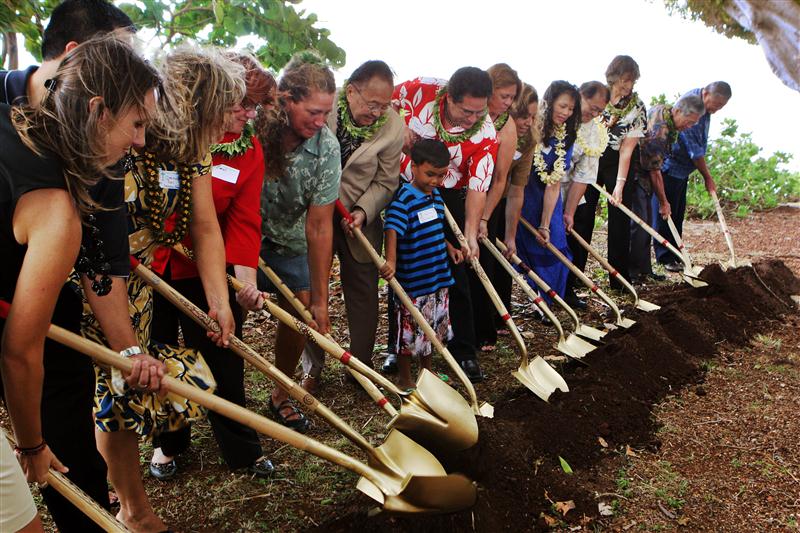 Molokai Community Health Center
Born in 2004 of community members who sought the designation as a Federally Qualified Health Center, the center is currently located in cramped quarters in the Kamoi Center. In 2009, the Health Center bought the old Pau Hana Inn and Executive Director Desiree Puhi said she hopes to move its core services to the new location by the end of this year. Renovations are currently underway.
The Molokai Community Health Center offers federally mandated core services under the Public Health Service Act. These services include two full-time primary care providers, one dentist and one dental hygienist, two behavioral health specialists, family support services, and "enabling" services – assistance in transportation, referrals, insurance enrollment and off-island appointments.
While their mandate is to service the indigent, uninsured and underinsured on a sliding scale payment system, Chief Financial Officer Cyrus Siu said their services are open to everyone. Minimum service fees apply to all patients – $10 for medical and $30 for dental. Those who can pay full fees don't slide under the radar, however.

"We have to document your income taxes or pay stubs," said Siu. "We go through a process to verify what patients tell us."
In addition to the core services, Puhi said expansion plans include a chiropractor, acupuncture, massage and Native Hawaiian health. She describes the goal as "one stop shopping" – a hub of health and community partnerships. A community garden, certified kitchen, healthy juice bar and café and rental space for other partners and Molokai organizations are in the works.
"It's a lot to dream about," said Puhi.
Dept. of Health
The Department of Health (DOH), located in the state offices next to the library, offers a variety of services, free of charge to the public. Two public health nurses on Molokai administer TB testing and flu vaccines in schools, help the elderly at home with medical care and disseminate health information, according to Dr. Lorrin Pang, the District Health Officer for the DOH.
The DOH mental health program runs the Molokai drop-in center in Kaunakakai, known as the club house. A program for the developmentally disabled provides a case manager and home care. The DOH also regulates restaurant and food safety, and other public health concerns such chemical and sewage spills, Pang said.
Na Pu`uwai
Na Pu`uwai is a federally funded nonprofit organization administered under the Native Hawaiian Health Care Improvement Act. Their primary audience is Native Hawaiian but offers a variety of services and health programs open to the public.
Staff offers cancer screenings, CPR certification, smoking cessation, routine testing in schools and other programs to promote active lifestyles, healthy eating and disease prevention, according to Executive Director Billy Akutagawa. Na Pu`uwai also runs an adult daycare program at Home Pumehana and a fitness center located in the industrial park. Na Pu`uwai has the only full-time dietitian on Molokai on their staff, and clinical psychologists for behavioral health.
The organization also serves Kalaupapa and Lanai, according to Akutagawa.
Other Options
A number of private practice doctors and dentists also offer services on Molokai. Dentists Dana Takashima, Greg Davis and Chris Chow practice independently. Dr. Emmett Aluli and semi-retired Dr. Paul Stevens run the Family Health Center. Dr. Dan McGuire runs the Ohana Health Center. Private practitioners in chiropractic, massage, Native Hawaiian health and many other areas are also available on-island.
Wai Ola O Hina, an organization specializing in therapeutic services, operates out of the Moore Center in Kaunakakai.

Collaboration
Last year, $1 million in state funds were allocated for renovations of the Community Health Center. In a letter to Puhi, Governor Lingle said a documented collaboration plan with all health care providers on Molokai would need to be provided before the funds would be released. The DOH's Dr. Kimo Alameda visited Molokai to facilitate collaboration discussions.,
"I thought it went well; the two sides are willing to collaborate," said Alameda, who helps health organizations draft service agreements. "With an island that small, the competitive model doesn't work as well as the collaborative model."
MGH's Kalanhuia said she is concerned that the health center may take services away from the hospital.
"I would love to never see a Molokai proposal against a Molokai proposal," she said, adding she hopes for a spirit of cooperation and excitement about sharing assets like specialists.
Alameda said it's a matter of each organization filling its niche. There are only a few "gray areas," or services that could be covered by either the hospital or the health center, such as women's health, according to Alameda.
Puhi said all parties signed an agreement to communicate and not duplicate services.
She hopes the release of funds will also be facilitated with the inauguration of a new governor.
"There's already about 95 percent agreement," said Alameda. "It's that five percent I'm trying to help them figure out."
Read next week's third in the series to find out what's in the future for Molokai's health care.