Sister Ardis Says Goodbye to Molokai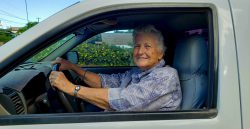 By Paula Scott and Jim Krupka
Growing up on the Mississippi coast, the sea and adventure were always a part of Sister Ardis Kremers' life. As the daughter of an engineer running a boat building business, being outdoors was natural. She loved to sail and experience life. With her love for God and spirit of adventure, she discovered the Catholic Foreign Mission Society of America that we know as Maryknoll. She would have to wait a year before she could enter into religious life. She was invited to Maryknoll, New York to begin life as a Maryknoll Sister at the tender age of 19 years old.
Her life in Maryknoll fulfilled her wish for travel and adventure. She was assigned to serve in Chile where she taught religious education. Her two and a half years there were filled with political turmoil. She had to leave when the Maryknoll House was taken in a political uprising. Maryknoll then sent her to Micronesia where she taught children religious education and how to sail.
The life-changing move to Molokai began in 1975 when a more senior Sister who was going to work there needed a companion in service and asked Sister Ardis to come. Sister Ardis did not have a specific assignment other than being a companion. She contacted Molokai General Hospital and began work as a licensed Practical Nurse. From Molokai General Hospital she worked at the Department of Health which she retired from after 30 years.
After her retirement, Sister Ardis could be seen as one helping out at St. Damien of Molokai Catholic Parish in liturgy and youth religious education. She taught Religious Education to high school and elementary students for twenty years. She has also been the President of the Molokai Humane Society for many years and at times assisted the veterinarian when the assistant was unavailable.
Sister Ardis can be seen daily driving around in her well-used pickup truck and could easily be mistaken for an island ranch woman. In every way she is part of the fabric of Moloka'. Molokai has been her home for most of her life-longer than anywhere else she has been. Those who have met her can see generosity and kindness flowing out of her and the aloha that comes naturally to this woman who always wears a big smile. When hearing about Sister Ardis' upcoming departure from Molokai, a local resident, Janeel Hew said, "Wow… Molokai without Sister Ardis, really hard to imagine."
As Sister Ardis leaves Molokai and moves on to her next chapter in life, she still lets that smile show. At eighty plus years she is still ready to go wherever Maryknoll sends her, but she will dearly miss her ohana here. She loves Molokai but holds nothing back in being ready for what is next.
Sister Ardis will be recognized and honored at the Saturday Vigil Mass on Aug. 22 at 6 p.m. at St. Damien Catholic Church.