Significance of Makahiki Medals
Ka Molokai Makahiki News Release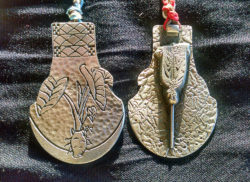 As arms were raised to declare champions, medals were awarded for their great accomplishments shown on the field at Ka Molokai Makahiki 2018. In the early years of Makahiki, various types of Hawaiian art — model koa canoes, paintings, `umeke, ipu wai, poi boards, feathered kahili — were given as awards, followed by certificates, T-shirts, and, more recently, medals created by artists from Molokai Heritage Company. Last year's medal was a pohaku ku`i `ai, a poi pounder, to remind us of our kuleana to keep Haloa (kalo) thriving by planting, harvesting, pounding and sharing that which sustained us for hundreds of years.
This year's medal reminds us what Makahiki is really all about. Mahalo nui to artist Candace Otsuka for her beautiful, inspiring work and mana`o. The symbolism in the medals is significant. The four checkered blocks at top represent four lunar months of Makahiki season. The diamond shapes also at top represents Pleiades constellation seen during the Makahiki season. The crescent moon at bottom shines in the heavens during Makahiki season. Kalo (Haloa) is our ancestor and older brother, while Akua Loa banner on the back of the medal represents Lono.
The name of the medal is "If Not for Them." If not for our ancestors who bravely sailed to Hawaii, we would not have a beautiful and powerful culture. If not for Haloa, our older brother, we would not have our sustenance of life, kalo. If not for the heavenly bodies we would not have seasons, guidance, and life. If not for the first organizers of Ka Molokai Makahiki and others preserving our culture, we would not have the Makahiki games. If not for our keiki, we would not have a purpose to hold these games, and a promise for the future. If not for Akua, all would not exist.