Sheltering the Strays
Molokai's four-legged residents could soon have a new place to take shelter thanks one woman's love for the island and for animals.
Kathleen Shields, a frequent visitor who planned to retire on Molokai, left funds and a request in her will for a fully-functioning, open-admission animal shelter on the island. In 2009, a year after she died, her friend Debi Buechel formed the Shields Animal Shelter Foundation.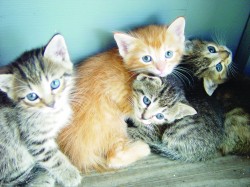 Buechel, executive director of the foundation, and two other foundation workers are making the move to Molokai to make Shield's wish a reality.
"We're three people working seriously and sincerely in every respect for the community," said Buechel. The foundation hosted its first community meeting May 6, where they explained their plans for the shelter and answered questions from residents.
The proposed 10,000-square-foot shelter would have space for as many as 75 dogs and 150 cats, said Nevyn O'Kane, director of development and operations for the foundation. He added that he knows there are limited  adoption opportunities on the island, so they plan to work with organizations that will find homes for the animals on other islands and the mainland. They also are looking for community partnerships that would give a home to goats, horses or other animals that arrived at the shelter.
The shelter will also house the Molokai Humane Society, which is working closely with the organization. Humane Society board member Nannette Walters expressed her support for the shelter. She said that as an animal lover who has taken in many strays on Molokai, she thinks the new facility could benefit not only those with animals, but the entire community.
This was echoed by police representatives who said the shelter will help them to better control Molokai's stray pet population.
Foundation employees also cleared up some rumors, including that animals would only be able to stay three days before being euthanized.  They said that simply was not true.
"We haven't set bylaws yet," said O`Kane. "But we are against time limits."
They have not set a location for the shelter yet, but the foundation directors said at they may lease a lot across from the plumeria farm a mile west of Kaunakakai. In July they will set up an office on the corner of Maunaloa and Kalae highways. There, they will take questions and comments as they work through the planning process.
O`Kane said funds left by Shields cover the cost to get the facility built, open and staffed.
"We will be reaching out in the future for funding for our operations," he said, adding that he hopes to use as much local labor as possible in the construction and operation of the shelter.
Victoria Velinski, director of humane education and community outreach, said her job will be to help local keiki think critically about how to treat animals. She also said she plans to establish a program that will allow domestic abuse victims to bring their pets to the shelter for safekeeping until they are out of the abusive situation.
"We also have space set aside for boarding," said O`Kane. "We heard from a lot of folks on the island that boarding is an issue."
Anyone with questions or concerns about the animal shelter can contact Buechel at (224) 856-8067 or debi@shieldsanimalfoundation.com.