Sharing the Love of Music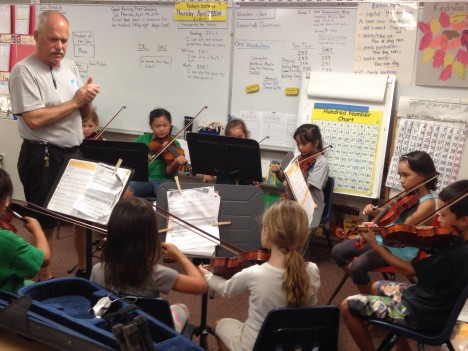 Inside the white brick walls of Kaunakakai Elementary School room A-103, the reverberation of melodies fill the air after school Mondays and Wednesdays as keiki, parents and community members tackle playing some of the toughest string instruments to learn.
The students are a part of the Molokai Community Band and the 21st Century Instrumental Music program, an after-school music program for individuals of all ages to receive group music lessons and learn a string or woodwind instrument. The focus is learning how to read music, play an instrument and interact with others in a group environment, said Bob Underwood, a first grade teacher at Kaunakakai Elementary and volunteer string instrument teacher.
"To empower our students with the tools that music provides will help to open up doors for opportunity in their future, this is something we feel very strongly about," said Rob Stephenson, a woodwind instrument teacher. "[Our classes] create well rounded students and groom them to have an appreciation for the fine arts."
Neither Underwood nor Stephenson receive payment for sharing music with the approximately 50 students involved in the program, ranging from Kindergarteners to kupuna. After the 21st Century Grant program, a five-year federally funded grant program for academics and arts, ended in 2013, pay for the duo ceased. However, that didn't stop the two from spreading their love of music to others. They continue to teach as volunteers and the classes remain free.
The strings program meets Mondays and Wednesday at Kaunakakai School from 3 to 5 p.m., and the woodwind group meets Thursdays from 5 to 7 p.m. at Molokai High School. Underwood teaches violin, viola, cello and bass – and occasionally the trumpet, while Stephenson teaches flute, clarinet and saxophone. Underwood said the goal of the band is to provide a setting where parents and children can work together to learn to play an instrument.
"What it comes down to are the parents," Underwood explained. "If the parents see that there is a value in learning to play an instrument, then they are the ones who will push the kids to continue and stick with it. The parents that value this are the ones that continue to make it happen."
Six-year-old Maesilyn Yuen is one of the program's participants.
"I like learning the violin because the music sounds good." Maesilyn said. "I like practicing with Mr. Underwood because he's funny and he makes me laugh."
The music program gained momentum in 2008 when Underwood started offering violin classes to his students through funding from the 21st Century Grant. He used grant money to purchase 10 violins for his first grade class. In 2011, the classes became the 21st Century Instrumental Music program, taught after school and open to anyone with a desire to learn music. That same year, Underwood was joined by bandmate and friend Stephenson, who began offering woodwind lessons.
"Music has provided me more opportunities in life than anything else," Stephenson said. "It's why I came to Molokai, it's how I met my wife, and it has been a strong influence in my life."
Music classes at Molokai Middle School (MMS) are available to its students through funding from the state-wide middle school after-school program called REACH (Resources for Enrichment, Athletics, Culture and Health). MMS is one of five middle schools to pilot the REACH program from Jan. to May 2014. If you're interested in taking music lessons, have a peek here.
According to Lyn Bonk, After-School Coordinator for MMS, the classes allow students to explore and learn a whole level of music that is not often heard or appreciated on Molokai due to a lack of exposure.
"We have long acknowledged the gifted musical talents of our youth and families here on Molokai," Bonk said. "It seemed only natural to expose and offer everyone a chance to learn a greater variety of music, instruments, and skillsets given [by] Bob, Rob, and other community musicians that are eager to teach, share, and play music together."
Now that the 21st Century Grant funding has run out, the music program receives grant assistance and teaching space from the Molokai Arts Center (MAC). Emillia Noordhoek, president of MAC, said public schools on Molokai do not have in-school music programs at all, so Underwood and Stevenson are providing a service that would otherwise be inaccessible to the community.
"[Music is] important because it teaches people how to think. It's part of education. It's not something that should be ignored, overlooked, or slighted," Noordhoek said. "…Luckily we already had Bob and Rob teaching these fantastic music classes so it was not a hard decision to incorporate them into our program and to help support them."
Students will perform a concert on May 28 with an array of songs including "Ode to Joy," "Rolling Along," and The Beatles' "Eleanor Rigby." The location is to be announced. Underwood and Stephenson said they also plan to offer summer music classes. For more information or to get involved in the music programs, contact Bob Underwood at 646-0733.
Instrumental Music classes are offered at the following locations and times:
Violin, Viola, Cello, Bass
– Kaunakakai Elementary School – Mondays/Wednesdays
Beginner – 3 to 3:30 p.m.
Intermediate – 3:30 to 4 p.m.
Advanced – 4 to 5 p.m.
Open to all ages, students and community members.
– Kualapu`u School – Tuesdays/Thursdays
Beginner/Intermediate – 2:45 to 3:40 p.m.
Open to all students.
– Molokai Middle School – Mondays/Wednesdays
Beginner/Intermediate – 3:30 to 5 p.m.
Open to Molokai Middle School students only.
Trumpet, Trombone, Clarinet, Flute, Saxophone
– Molokai Community Band (Molokai High Band Room)
Beginner/Intermediate/Advanced – 5 to 7 p.m.
– Molokai Middle School – Tuesdays/Thursdays
Beginner/Intermediate 3:45 to 4:40 p.m.
Open to Molokai Middle School students only.