Senator Akaka's Mahalo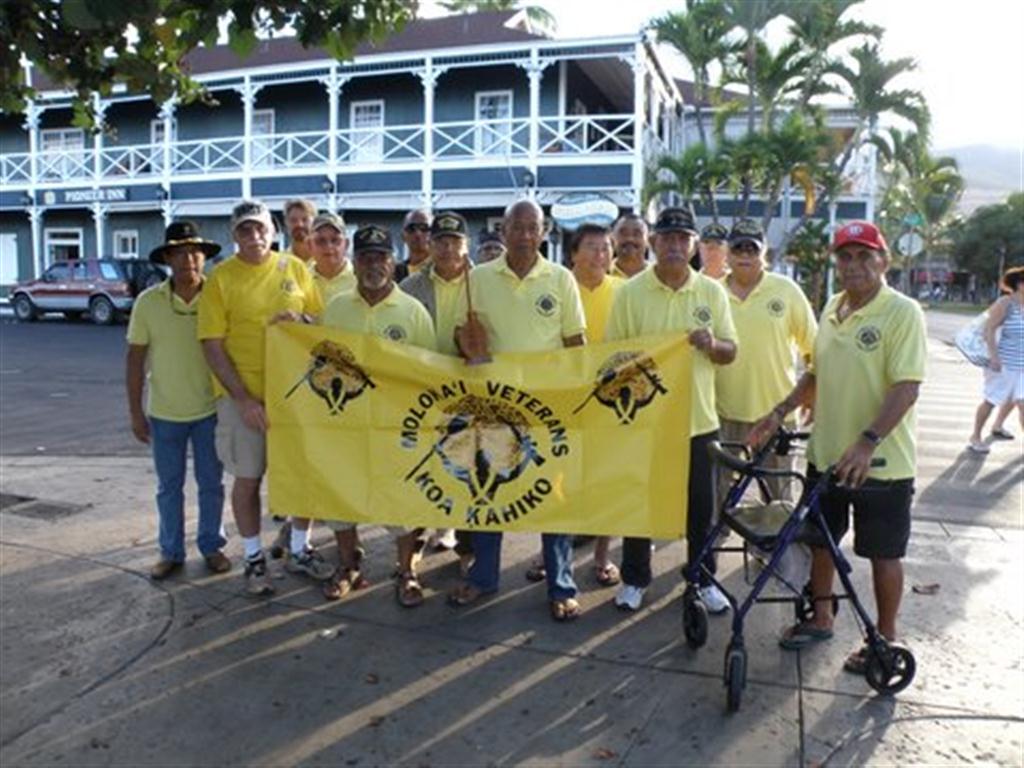 On Friday, Aug. 26, many Molokai veterans boarded the ferry to Maui at 5 a.m. to attend an appreciation luncheon coordinated by the Maui Veteran Council for Senator Akaka held at the Maui Tropical Plantation. More than 500 veterans and guests attended—including the 18 Molokai vets with their yellow shirts that stood out in the crowd. While politician and veteran groups honored Senator Akaka with proclamations and some tokens, Molokai honored him in Molokai style. After thanking him for being instrumental in getting many of the Molokai Veterans Affairs (VA) services (VA physician Dr. Hafermann, more psychologists/psychiatrists, benefit counselor and social worker visits, etc.) and health benefits that are available today for some 600 Molokai veterans.
Jesse Dudoit, Ben Bali, and Hank Ellertson presented the ho`okupu (offering) from Molokai that included an all-Molokai products basket (bread, honey, sweet potato chips, Molokai poi, etc.) donated by Irene Tancayo and a stand-up engraved wood paddle expressing aloha from the Molokai Veterans. The crowd applauded and Senator Akaka was ecstatic when hearing what was in a cooler being presented to him filled with ophihi from Kama Han, limu `ele`ele (seaweed) and cooked he`e (squid) from Earl Paleka, dried squid from Dobie Enoka, kukui nut from Jesse Dudoit and Karen Joao, limu koho and chili peppa watah.
Mahalo to the veterans who attended the luncheon to represent the Molokai Veterans. They are Wendy DeFreitas, Dr. David Hafermann, Bo Mahoe, Kama Han, Mac Poepoe, Jesse Dudoit, Earl Paleka, Rosalie Scweiber, Clay Adachi, Sam Kealoha, Jim Bevil, Hank Ellertson, Jr. Habon, Ted Johns, Ben Bali, Manny Garcia, Lou McKee, and myself.
Larry Helm, Commander
Molokai Veterans Caring for Veterans