Selling Axis Deer By-Products Courses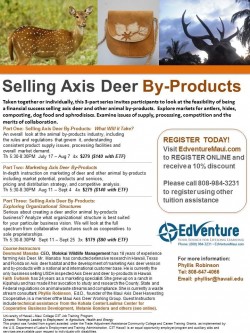 UH Maui College News Release
Now that USDA-inspected Axis Deer meat is for sale on Maui, the rumor of a budding venison industry is becoming a reality.  So what happens to all the other parts of the deer? In New Zealand, Red Deer by-products have proven to be more commercially valuable than the sale of the deer meat itself.
With this in mind, UH-Maui College's Office of Continuing Education and Training (OCET) under its U.S. Department of Labor grant to promote job creation in sustainable agriculture, in conjunction with the Sustainable Living Institute of Maui (SLIM) and EdVenture, is offering a three-part course to help interested students explore the feasibility of developing an Axis Deer by-products operation. Deer by-products markets for hides, antlers, bone and blood meal and other types of compost, waste meat for dog food, and deer parts that are aphrodisiacs will all be discussed.
The course will be available via the Polycom system to the islands of Molokai and Lanai.
The hard part of deciding if selling animal by-products is feasible on Maui requires looking at the challenges of rules and regulations about animal waste processing facilities, finding a consistent supply, and working with existing slaughterhouses, covered in Part One.  Part Two focuses on understanding your competition, developing an export market, and Part Three will examine what type of organizational structure, scale and size of operation would work best when wanting to be a financial success.
The college has assembled a team of instructors and guest instructors including: Faith Ewbank, a 24-year veteran marketing specialist having been the Marketing Director for the Maui Arts and Cultural Center who frew up on a cattle ranch in Kipahulu with years of teaching experience on agricultural topics. Phyllis Robinson, Ed.D. has been an organizational development specialist for 30 years, was the founder of the Maui Axis Deer Harvesting Cooperative and is a member of the Maui Axis Deer Working Group.  Dr. Robinson will co-teach Parts One and Two with Ms. Ewbank and Desmund Manaba of Molokai Wildlife Management, currently the only deer rancher providing USDA inspected venison in the state. Dr. Robinson will teach Part Three with technical assistance instruction from Melanie Bondera of the Kohala Center/Laulima Center for Cooperative Business Development.
All three classes will be on Thursday evenings from 5:30-8:30 beginning with Part one on four Thursdays July 17 through Aug. 7.  Part Two will begin Aug. 11through Sept. 4 for four Thursdays, and Part Three will begin Sept. 11 and run for three Thursdays through Sept. 25.
Register by calling Edventure at 984-3231, or online through edventuremaui.com.  A discount is available for taking all three parts. Tuition assistance may be available for eligible applicants.  For tuition assistance, please Email phyllisr@hawaii.edu immediately if you are interested in Part One.