Season's First Stand Up Race
SUPAM News Release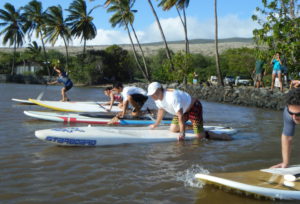 Stand Up paddle Association of Molokai (SUPAM) had their first race of the this year's series Makani Ikaika O Molokai, on March 10th, 2012. This event lived up to its name. The Molokai to Oahu leg of the Olamau canoe race was postponed to Sunday, March 11 due to high winds and big seas and therefore SUPAM did the same for the long course, Kamalo to Kaunakakai.
However, the short course was inside the reef and in shallow water so the short course – three miles from One Ali`i fishpond to Kaunakakai Harbor – continued as scheduled. The wind was howling and for the kids that entered this was quite the adventure. Kekai Adachi won his division in the youth category with fifth overall and Jesseca Oswald Smoked the race in 28.05. Both Alex, age 9, and Josie Mawae, 11, raced unofficially with Alex taking second overall in an unofficial time of 29.04 and Josie in third with an unofficial time of 29.10. David Lichtenstein won his division of surfboard division. Our thanks have to go to Gary Parsons from Canada who helped with chaperoning the kids.
The next day, the long course of 10 miles from Kamalo to Kaunakakai Harbor took place with Alex coming in with a time of 2.04.46 and Josie following close behind with 2.05.33.
Makani Ikaika Race series is purely grass roots and safety is the biggest concern. This is a great event to use as training for bigger events to come along with first time experience of racing. We encourage that anyone interested in racing or just to have some fun come join us for the season.
Please contact Clare Mawae for more information at 808-336-0946 or go to the website supmolokai.org.
Upcoming races:
2. Sat. March 24, 2 p.m. (1.0ft) start; rising tide till 4:45 p.m. (1.8ft)
3. Sat. April 7, 1:30 p.m. (1.1ft) start; rising tide till 4:20 p.m. (2.2ft)
4. Sat. April 21, 1 p.m. (1.1ft) start; rising tide till 3:52 p.m. (2.0ft)
5. Sat. May 5, 12 noon (1.0ft) start; rising tide till 3:15 p.m. (2.4ft)
6. Sat. May 19, 12 noon (1.2ft) start; rising tide till 3:04 p.m. (2.2ft) – Molokai Holokai Race, (Kamalo Harbor to Hotel Molokai, 8.5 miles) – both divisions, and bonus points for the series – Please contact the Ohana Surf Club for more information
7. Sat. June 2, 11 a.m. (1.1ft) rising tide till 2:20 p.m. (2.5ft) – This event is pending confirmation.